A favorite Roman street food, pizza alla pala is topped with fresh ingredients and served on its namesake paddle. Compared to the wood-fired Neapolitan pizza, it's made with a high-hydration, long-rising dough and baked in an electric oven, giving us a delicious crispy flatbread.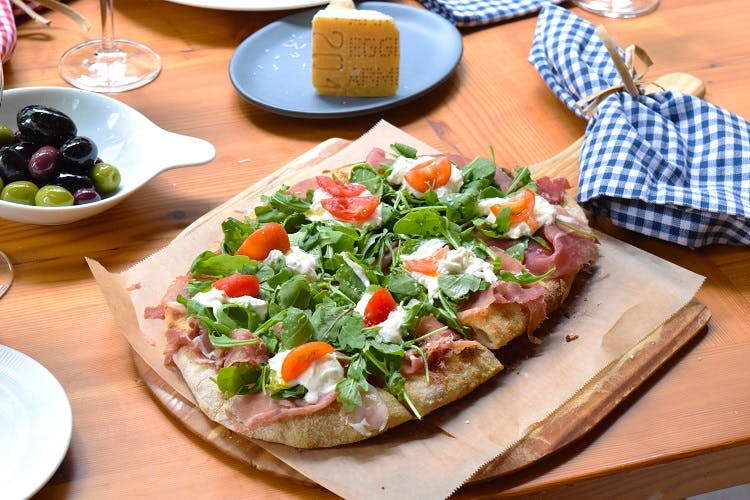 Preparation time
30 minutes
Pizza alla Pala (Roman-Style Pizza on a Paddle)
Recipe courtesy of Eataly
For the Pizza alla Pala dough:
4 cups (500 grams) buratto flour
1 1/2  cups (375 grams) cold water
1 1/2 teaspoons (5 grams) yeast
3/4 tablespoon (12 grams) salt
3/4  tablespoon (10 grams) extra virgin olive oil
For the Toppings (these are in the Pizza Tricolore above, but you can use any fresh ingredients you choose!):
Prosciutto crudo, to taste
Cherry tomatoes, to taste
Stracciatella cheese, to taste
How to prepare Pizza alla Pala
1
In a large mixing bowl, mix together flour, cold water, yeast, salt, and olive oil. Knead dough until combined. Shape into a ball, place into a bowl, and cover with a towel. Let the dough rise at room temperature for one hour.
2
We recommend cooking the pizza on a cast-iron pizza pan or pizza stone. Place the dough ball on a lightly oiled pan and flatten it slightly by pressing down on it with the palms of your hands. Begin pressing into the dough with your fingertips, gently working your fingertips outward and gently pulling the dough with it. Shape the dough into a long rectangle. Cover again and let rise for two to three hours at room temperature.
4
While the oven heats, prepare any toppings that will be added to the pizza.
5
Drizzle olive oil over the dough, sprinkle lightly with salt, and bake for 20 to 25 minutes.
6
Remove the pizza from the oven, top with fresh ingredients, and serve on its namesake pala, or wooden paddle.
Buon appetito!