Longing for the charred yet elastic crust of the perfect pizza napoletana? Master the basic recipe for fresh pizza dough, and you can enjoy the delicious dish in the comfort of your own home anytime! 
For this recipe, we went to the source: Rossopomodoro, the Napoli-based pizza company that creates traditional Neapolitan pizza before your eyes at our restaurants in New York and Chicago.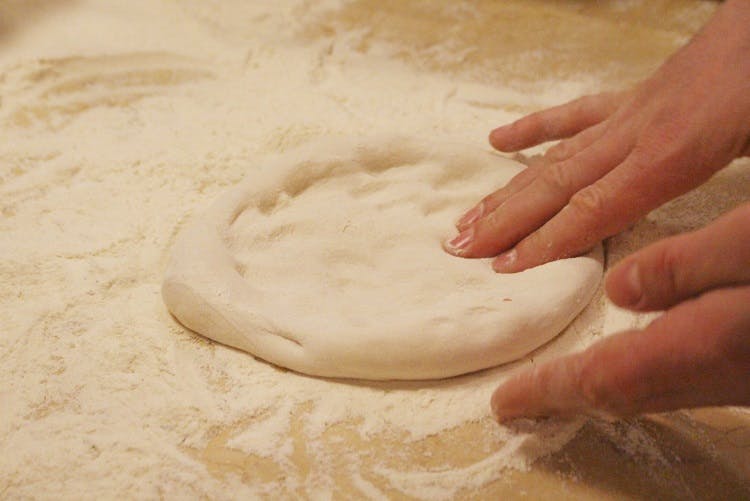 Preparation time
30 minutes
Impasto per la Pizza(Pizza Dough)
400 grams (400 milliliters) room-temperature water
650 grams (5 cups) type 00 flour
15 grams (1½ tablespoons) fresh yeast
25 grams (1½ tablespoons) salt
Extra virgin olive oil, as needed
Recipe courtesy of Rossopomodoro
1
Pour the water and salt into the bowl of an electric mixer, and mix on high for 1 minute. Crumble the fresh yeast into the liquid, and let it mix for another 60-90 seconds. Turn the mixer down to medium, and slowly add the flour. Finally, let the dough mix on a medium to low setting for 11-14 minutes.
2
With floured hands, take the dough out of the mixer, and place it into a lightly-floured bowl. Form the dough into a ball, cover the bowl, and let it sit for 45-60 minutes.
3
With floured hands, remove the dough, and break it into 250-gram pieces (about ¼ of the dough each). Using your hands, roll the pieces of dough into round balls. Cover the balls of dough and let them rise for another 45-60 minutes.
4
When the dough has risen, oil 4 (12-inch) baking pans.
5
Dust the dough with flour, and begin to knead it open with your hands. While opening the dough, be sure to leave the outermost inch untouched to ensure a nice and airy "cornicione," or crust.
6
Lay the opened dough out in the baking pan. You now have the base for your pizza!