Did you know that not all pesto needs to be green? With origins in Sicily, pesto alla trapanese is a delicious result of cross-cultural cuisine and a flavorful way to make use of fresh summer produce.
Dating back to Italy's maritime past, Ligurian sailors would arrive home at the port of Trapani in Sicily after lengthy travels through Eastern Asia. It was here that the northerners introduced Sicilians to pesto alla genovese, or the classic basil pesto typical of Liguria. Having learned the Ligurian technique of grinding the fresh ingredients into a silky sauce, the Sicilians adapted the recipe with the use of fresh tomatoes and almonds native to the region.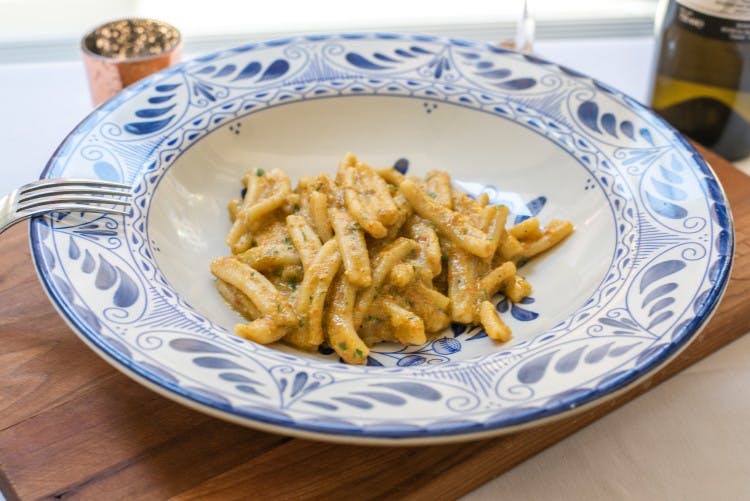 Preparation time
15 minutes
Pesto alla Trapanese (Trapani-Style Tomato Pesto)
1 1/2 cups cherry tomatoes, very ripe & sweet
3 cups fresh basil leaves
1 garlic clove, peeled
1/2 cup almonds
1
Add the tomatoes, extra virgin olive oil, almonds, and garlic to the bowl of a food processor, and mix for about two minutes.
2
Add in the basil and pulse to combine. Do not mix too much, as this will help the basil retain its intensity of flavor and color.
3
Remove from the mixer and fold in the grated cheese until creamy and thoroughly combined.
4
Season with salt to taste.
5
Serve and eat fresh, or keep in the fridge for up to two days. This pesto pairs especially well with pasta like busiate, penne, or spaghetti.
Note: it is important to not cook the pesto, as the heat will alter the flavor and freshness of the ingredients. Add to freshly cooked pasta, but do not cook over heat.