Stretched between the Adriatic and Ionian seas, Puglia's sun-soaked landscape in southern Italy is celebrated for its signature dish, orecchiette with broccoli rabe.The pasta's "little ears," as "orecchiette" translates, are the perfect shape to scoop up the chunkier sauce. Pair this dish with a glass of Primitivo or Aglianico wine for a perfectly traditional Pugliese meal.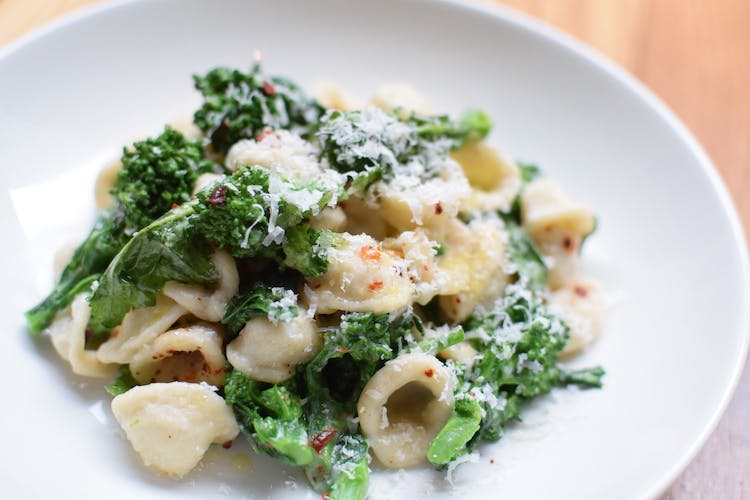 Preparation time
60 minutes
Orecchiette con Cime di Rapa (Orecchiette with Broccoli Rabe)
Recipe courtesy of Eataly
For the fresh pasta*:
1 cup durum semolina flour
1 ½ cups unbleached all-purpose flour, plus more for work surface
*If you prefer dry pasta: 
8 ounces dry orecchiette
For the sauce: 
10 ounces broccoli rabe, rinsed & chopped
¼ cup extra virgin olive oil, plus more for drizzling
¼ cup grated aged pecorino, preferably from Puglia
Crushed red pepper flakes, to taste
1 clove garlic
Sea salt, to taste
How to make orecchiette
1
In a medium bowl, whisk the two flours together. Mound the flour on a work surface, and make a well in the center.
2
Place about 2 tablespoons of room-temperature water in the well. With two fingers, stir in some of the flour off the walls and into the center. When the water has been absorbed, repeat with more water, always adding small amounts, until you have a soft dough. (You will probably need between 2/3 cup and 1 cup water.)
3
Knead the dough until it is smooth and soft, about 10 minutes. If it crumbles while you are kneading, wet your hands a few times to incorporate a small amount of additional liquid.
4
Lightly flour a baking sheet, and set aside. Cut off a piece of dough about the size of a golf ball, and put the remaining dough under an overturned bowl, to keep it from drying out. On the work surface, roll the piece of dough into a rope about ½ inch wide.
5
Use a knife to slice off a disk about 1 1/8 inch wide, and pull the disk away from the rope of dough, pressing it against the work surface. Then lift up the disk and invert it over a fingertip. It should be shaped like a little hat with a rolled "brim" all around the perimeter. Transfer the shaped pasta to the prepared baking sheet. Repeat with the remaining pasta dough.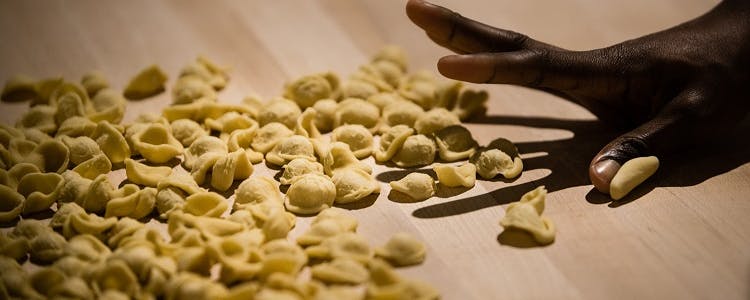 How to cook orecchiette with cime di rapa
1
Bring a large pot of water to a boil. When the water boils, add salt and cook the broccoli rabe until tender, 3 to 5 minutes.
2
Remove the broccoli rabe with a slotted spoon, and run under cold water. Squeeze as much water as possible out of the broccoli rabe, and chop roughly. Set aside.
3
Let the water return to a boil, then add the orecchiette and cook until it floats to the surface (if fresh) or until it is al dente(if dry, about 12 minutes or according to package instructions).
4
Heat 2 tablespoons of the olive oil in a large pan. Peel and crush the garlic clove, sauté until browned, then remove it from the pan with a slotted spoon and discard.
We recommend serving this dish with a full-bodied, robust red wine from Puglia – discover our full selection of Pugliese wines on Eatalyvino.com. Buon appetito!