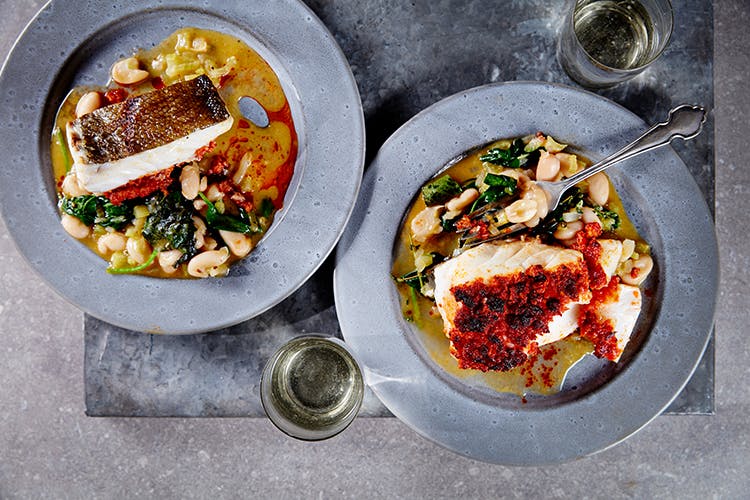 Our favorite sustainable spring recipes? They start with seafood from Norway! Fish grow slowly in Norway's icy, clean waters, leading to unsurpassed flavor, while rigorous standards and thoughtful care for ocean health ensure Norway's seafood industry is a world leader in responsible farming and harvesting practices.
Seafood from Norway is the perfect addition to a balanced diet and healthy lifestyle — plus, it's so easy to cook! Choose salmon and cod from Norway for their pure taste, beautiful color, firm flesh and ideal texture.
Looking for a show-stopping dish? Try these two spring recipes using salmon from Norway in a delicious creamy pasta dish with lemon and dill, and brown butter-baked cod from Norway with savory capers and vegetables.
Curious to learn more? Deep dive into the story of Seafood from Norway on Eataly Magazine here to read about Norwegian Cod and Salmon's sustainable standards, taste and nourishment.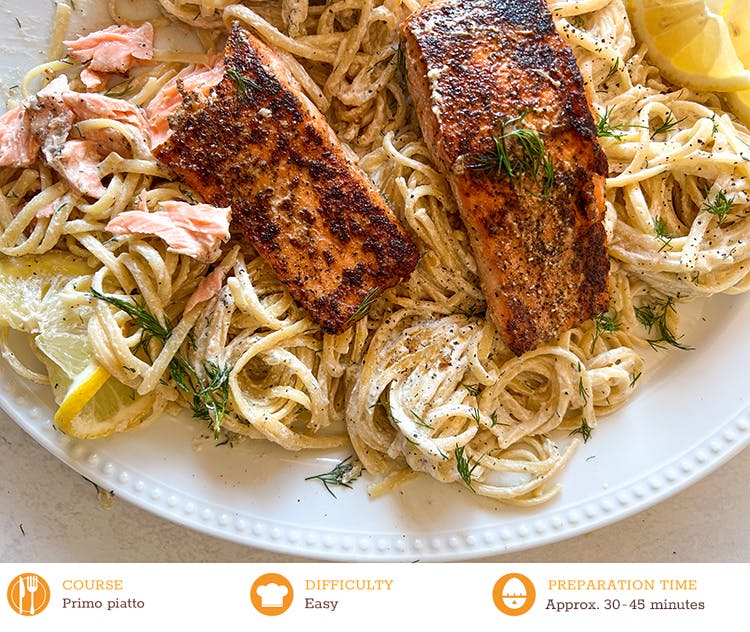 CREAMY SPRING SALMON PASTA WITH LEMON & DILL
Recipe by Heifah Odeh / @fufuinthekitchen, courtesy of Seafood from Norway
Serves 2
Ingredients
2 Fillets of Norwegian Salmon, approximately 1lb each
Salt & Pepper to taste
1/2 tbsp Garlic Powder
½ tbsp Smoked Paprika
1.5 tbsp Avocado oil or any high-smokepoint cooking oil
Lemon Sauce
1 onion, finely diced
3 garlic cloves, minced
2 tbsp corn starch
2 cups Heavy Cream
½ cup Vegetable Broth/Stock
Zest of 1 lemon
½ a lemon, juiced (approx. 3-4 tbsp)
Salt & pepper to taste
¼ cup dill, chopped, divided
Other
10oz cooked Pasta of choice
Serve with a wedge of lemon
Sprinkle of Red Pepper Flakes (optional)
Sprinkle of Parmigiano Reggiano Cheese (optional)
Instructions
1. To a non-stick skillet over medium heat, add the avocado oil.
2. Pat the salmon fillets with a paper towel till dry, then season both sides generously with salt, pepper, and garlic powder.
3. Add the salmon to the hot skillet so it achieves a nice sear. Let it cook for 5 minutes before flipping it and covering so it cooks through faster. This should take another 5-7 minutes. Salmon is cooked through once flaky and opaque pink in the center or at an internal temp of 125-130 F (medium). Once cooked, set to the side. Do not overcook your salmon!
4. In the same pan, add the minced onions and garlic. Season with salt and pepper to taste. Let it cook until lightly caramelized and translucent.
5. Add the corn starch and mix it together before adding in the cream and broth. Stir all together. Let this simmer for 2-3 minutes.
6. Season with salt, pepper, lemon zest, and add in the fresh lemon juice.
7. Let this simmer on low heat for 10 minutes or so until the sauce has thickened. Add in half the dill and stir for another minute or two. Once the sauce is the perfect creamy consistency, turn off the heat and set to the side.
8. To assemble, mix the sauce with the cooked pasta and top with a salmon filet. Sprinkle with black pepper, cheese, chili flakes, and the remaining fresh dill. Serve with a wedge of lemon and dig in!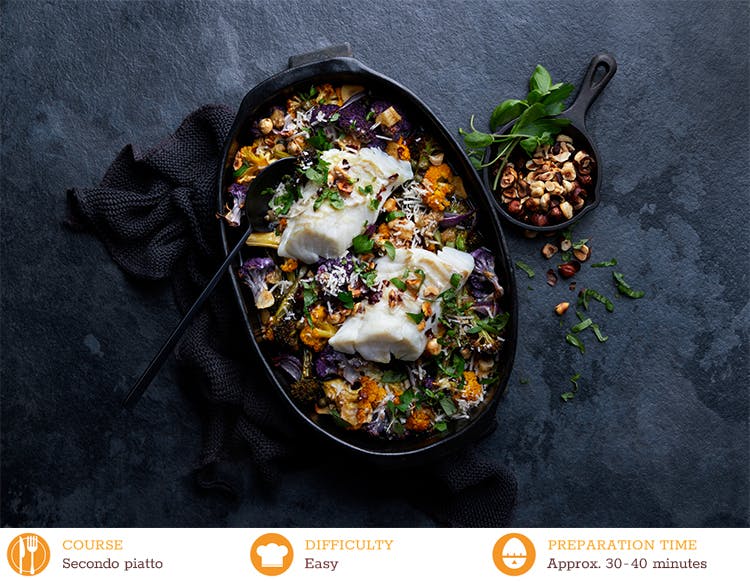 BROWN BUTTER BAKED NORWEGIAN COD WITH CAPERS & VEGETABLES
Recipe by Seafood from Norway
Serves 2
Ingredients
2 Fillets of Norwegian Cod, approximately 1lb each (skin removed, check for pinbones)
Salt & Pepper to taste
1 ½ tbsp Fresh Basil, chopped
1 ½ tbsp Fresh Parsley, chopped
2 tbsp grated Parmigiano Reggiano cheese
1 tbsp olive oil
2 tbsp butter
1 clove garlic, minced
½ lemon, thinly sliced
1 tbsp capers
Vegetables
1 cup cauliflower, cut into florets
1 cup broccoli, cut into florets
½ red onion, cut into wedges
1.5 cloves garlic, thinly sliced
1 tbsp olive oil
½ tbsp butter
8 hazelnuts, coarsely chopped as garnish (optional)
Instructions
1. Preheat the oven to 400F.
2. In a bowl, combine chopped herbs, cheese and olive oil.
3. Place the cod fillets in an oven proof baking dish or rimmed baking sheet, and top with herb mixture.
4. Bake cod for about 20 minutes, until it reaches 145F.
5. In a nonstick pan, melt butter and cook on low heat until it begins to brown. Add minced garlic. Continue to stir until garlic is soft and translucent.
6. Add lemon slices and capers to the butter. Set aside.
7. In a separate pan, heat olive oil and butter over medium-low heat.
8. Add garlic, onions and vegetables. Stir until combined and vegetables start to cook. Add a splash of water and cover to let them steam until desired doneness.
9. Arrange cooked vegetables on a platter, top with cod fillets, and pour lemon butter sauce over the top. Garnish with more cheese and hazelnuts, if desired.
Taste the difference for yourself! Find Seafood from Norway at Eataly Flatiron, Eataly Downtown, Eataly Boston, Eataly Chicago, Eataly Los Angeles, and Eataly Silicon Valley.