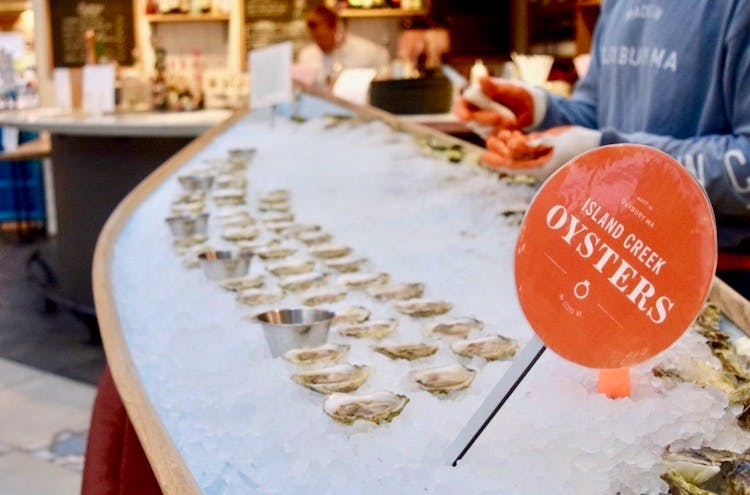 Founded in 1995 by Skip Bennett, Island Creek Oysters has grown into one of the largest and most reputable oyster businesses in the United States. Situated in Duxbury, Massachusetts, they sell over 10 million oysters a year to restaurants, distributors, and individual oyster-lovers across the globe – including Eataly USA!
IT ALL BEGAN WITH A MAN NAMED SKIP
Island Creek Oysters started with a crazy idea. A native of Duxbury, Massachusetts, Skip Bennett decided to plant his first oysters in 1995 after a few years of farming quahog clams. He was told by many that this was a bad business venture, as oysters must be harvested by hand and require at least 24 months to grow in which they endure a long battle fighting against the tides and sea predators.
Still, Skip persevered and was soon joined by Christian Horne, an oyster farmer from Maine. After a few years, they began selling their catch to local restaurants.
THEN THE TIDES OF SUCCESS CAME ROLLING IN
Little did they know, their oysters would soon become known as some of the best in America!
You see, Island Creek Oysters benefit from the ideal set of conditions that exist in Duxbury Bay, MA, where all of their oysters are grown. A constant northerly wind and large tidal flow keep the water cold year-round, forcing the oysters to grow a thick shell and produce extra glycogen (i.e. oyster fat) which complements the oyster's briny start with a sweet, buttery finish. This also means that their oysters do not spawn, and can be harvested year-round.
The Duxbury-based farmers work year-round to grow the most sought after oysters in the business. To do this, intense care is given to every step of the process - from seed growth to harvesting. Prior to shipment, the oysters are hand sorted into six different sizes, then inspected for quality.
These factors combined with Island Creek's excellent customer service led the National Shellfish Association to name Island Creek Oysters the best oyster in America in 2010. And we couldn't agree more! We love the sweet and briny flavors that flood each slurp.
AND OYSTERS BECAME THEIR WORLD
Thanks to their passion, tireless hard work, and the unique ecosystem that encompasses their aqua farms, oysters soon became the world of Skip Bennett and his entire team at Island Creek Oysters.
Today, Island Creek sells over 200,000 oysters a week, an enormous quantity that is only possible thanks to their innovation in reducing harvest time and their ability to grow oysters year-round. The team includes 35 employees in the wholesale company, 10 Island Creek farms in Duxbury, a non-profit foundation dedicated to funding projects that promote aquaculture and sustainability, and five oysters bar restaurants in Boston.
Find your local Eataly to practice your oyster shucking and get a taste for yourself!