We are in the heart of white truffle season, which means one thing: it's time to step up your tuber game.
Ancient Romans believed that the truffle was created when lightning struck damp earth. Today, we know that the small tuber grows underground in the wild forests of northern and central Italy. Even so, modern Italians maintain the magic of the truffle, referring to the earthy and aromatic ingredient as "a fairy apple," "a diamond of the kitchen," and "the gem of poor lands."
Learn from the Urbani experts and read on to discover how to incorporate this culinary gold into your life with our guide!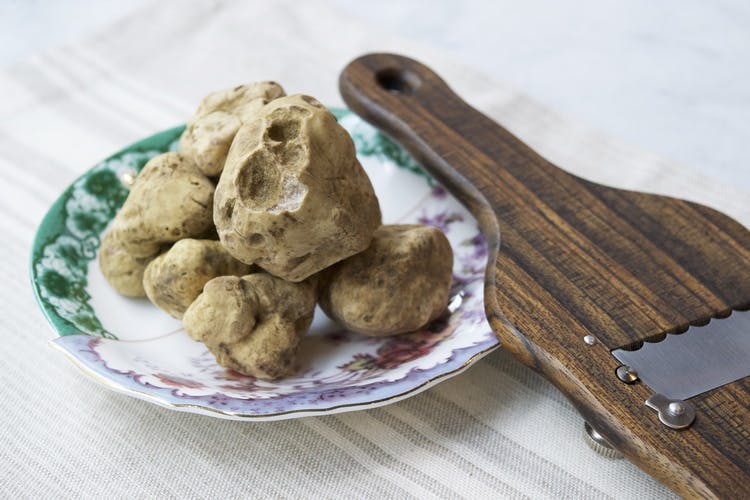 1. Know the truffles.
There are three varieties of truffles. The white variety is pungent with notes of shallot, the black is earthy and robust, and burgundy tends toward the delicate and aromatic.


2. Think seasonally.
Truffles cannot be planted or tamed, so each variety is only available a few months out of the year. These fragrant fungi taste best fresh, so plan to enjoy white and burgundy truffles from September to December, winter black truffles from December to early March,bianchettitruffles in February and March, and summer black and white truffles from May to August.
3. Hunt that truffle.
With the aid of a trained dog, hunt for wild truffles in the woods, meadows, and mountains of Umbria and Toscana. Professionals and amateurs alike train dogs from puppies to properly hunt truffles; we have met truffle hunters who reward their dogs with cubes of Parmigiano Reggiano DOP. Clean the soil-ridden truffles with a dry toothbrush, and prepare as desired!
5. Shave, sliver, and slice.
Finally, you have your truffles. Now what? Using a metal slicer, our chefs love to shave them over pasta, risotto, polenta, or even eggs. Fonduta con Tartufi (truffle fondue)? Yes, please. The shavings will add a decadent twist to the simplest of dishes — and even cocktails!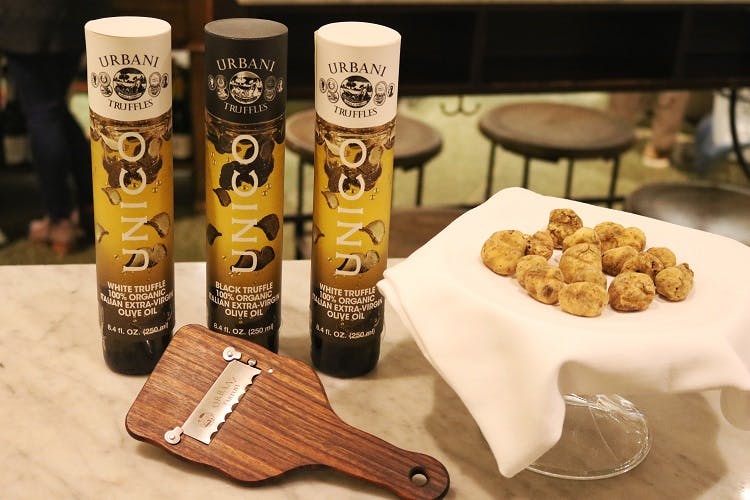 6. GET EXTRA-SEASONAL.
Craving truffles out of season? Sprinkle your scrambled eggs, omelet, creamy risotto, bruschetta, or baked potato with truffle salt (yes, that is a thing), a fusion of fine sea salt and earthy black truffles from Umbria, make pasta with pesto-truffle sauce, or throw in other year-round truffle pantry products.
7. AVOID CULINARY SACRILEGE. 
As we said, the truffle is a type of fungus; however, don't confuse it with the kind of mushroom that you can fry, boil, or bake. The cooking process destroys the truffle's characteristic flavor and aroma that render it a delicacy. We once heard an Eataly chef compare frying truffle to shoeing a horse with gold!
8. READ THE LABEL.
Put down that truffle fry: the majority of truffle oils are made with chemicals that replicate the aroma and flavor – without containing any of the real ingredient. There are a few exceptions (we love Urbani's all-natural line of truffle olive oils); we also go for truffle butter, which we know is made with real truffles (because we read the label).
9. VISIT YOUR LOCAL EATALY.
Let us hunt and prepare fresh truffles for you! Now that we're in white truffle season, our market offers a selection of the tubers for you to take home with you, fresh out of the ground from Italy. Check out your local Eataly to see which truffles are in season, get tips on how to use them, and more!