Have leftover panettone? Don't let the precious cake go to waste!
These sweet and fluffy desserts are one of the most common host gifts in Italy and it's quite common to end up with four or five extra panettoni after the holidays are over. While we enjoy eating the cake all on its own, there are many ways you can savor panettone – and keep the party going all month long!
Read on to discover our top five ways to use leftover panettone. Nota bene: These ideas work well for panettone's sister cake, pandoro, too!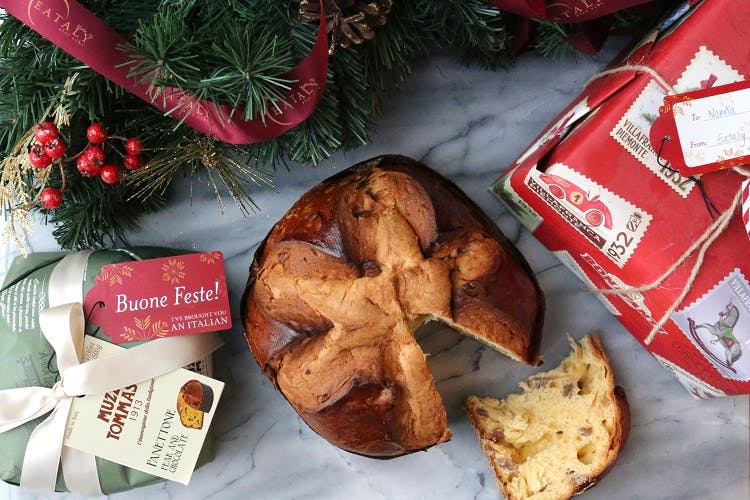 1
TOAST IT.
For a sweet post-Christmas breakfast, slice off a piece and warm it up in the oven. You'll be surprised at how much toasting it changes the flavor and texture. Top with your choice of melted butter, jam, or sweet spread.
2
LAYER IT.
Get creative and make a trifle! Cut panettone into thin slices, then layer them with mascarpone cream and fresh fruit. Stack in a tall, clear bowl or individual glasses and you'll have an impressive dessert in no time.
3
CROUTON IT. 
Classic panettone studded with candied orange and raisins makes for an excellent salad topping! Cut panettone into small cubes and toast on a baking sheet in the oven until slightly crunchy. Add to mixed greens and dress with an extra virgin olive oil and citrus-based dressing.
4
FRENCH TOAST IT.
The method may be French, but you can flip the switch and make it Italian by using panettone as your base. Slice panettone into thick 1-inch slices. Beat eggs in a shallow bowl together with a splash of milk and orange extract. Soak each slice in the mixture then cook in a butter-greased pan until golden brown. Serve with syrup or powdered sugar.
5
BREAD PUDDING IT. 
Follow your favorite bread pudding recipe, substituting regular bread with cubes of panettone. Depending on the flavor of your panettone (we have dozens!), you could add other ingredients like apple, strawberry, or pears.