Visit the Galleria of Vittorio Emanuele II in Milano, and you might notice people observing a mosaic of a bull depicted on the floor. What is this bull and why are people intrigued by it?
Built between 1865 and 1877, the Galleria of Vittorio Emanuele II in Milano is Italy's oldest active shopping mall – and for good reason. With its glass-vaulted arcades and intricate moasic floors the shopping gallery boasts a beautiful design that is as functional as it is aesthteically pleasing. The Galleria is home to luxury stores, books, and paintings, in addition to several restaurants, cafés, bars, and even a hotel! It attracts thousands of vistiors per year and is a major tourist destination of the city.
Designed in 1861 by Italian artchitect Giuseppe Mengoni, Galleria Vittorio Emanuele II contains four distinct mosaic designs on the floor. Each design portrays the coat of arms of the three capitals of the Kingdom of Italy (Roma, Firenze, and Torino), and of course, the symbol of Milano. Representing Rome is the she-wolf together with Romulus and Remus; Florence is the lily flower; and Milan is a red cross on a white background. As for Turin? A little dancing bull, or in Italian, "torino."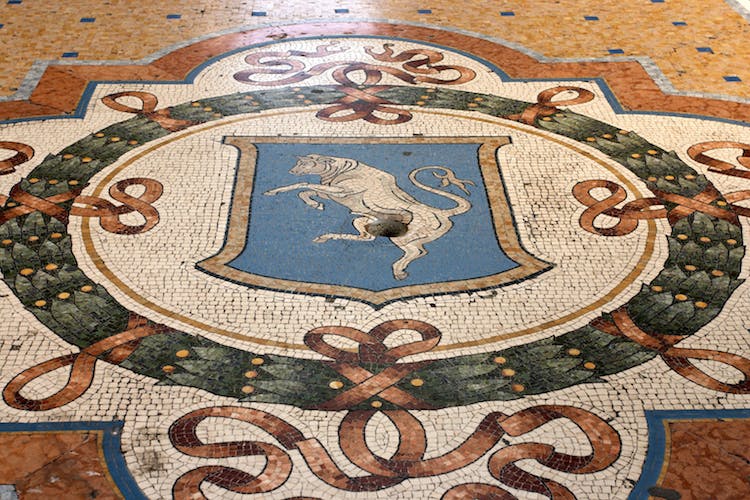 While no one knows how the tradition got started, many people believe that touching the little torino mosaic brings good luck. Legend has it that if you spin around three times with your heel on – ahem! – a particular part of the bull between its two hind legs, it will bring you good fortune. Today the little dancing bull mosaic attracts hundreds of curious and superstitious visitors daily.
But now, Milano isn't the only city to have a bull mosaic! At Eataly Las Vegas, we have decided to pay homage to the little toro and its symbol of our birth city, Torino, by installing our very own dancing bull mosaic inside the store. You can find it between Gran Caffé Milano, our upscale full-service Italian cafè inspired by Milan, and the entrance to Park MGM casino.
Who knows? Maybe if you spin around on it a few times it will bring you good luck!