White peach pureé, and Prosecco – possibly the only thing more charming than the taste of the Bellini is the sparkling cocktail's story.
The first Bellini was poured in the summer of 1948 by Giuseppe Cipriani, founder and barman of the legendary Harry's Bar in Venezia. Located just off the Grand Canal, the iconic bar was frequented by the likes of Humphrey Bogart, Truman Capote, and Ernest Hemingway.
These glamorous guests flocked to Harry's Bar for Cipriani's frank conversation, peaceful atmosphere, and simple food and drink. The menu drew from seasonal produce found in the Venetian countryside. In fact, inspired by the region's fragrant white peaches and world-famous sparkling wine, the barman invented the Bellini.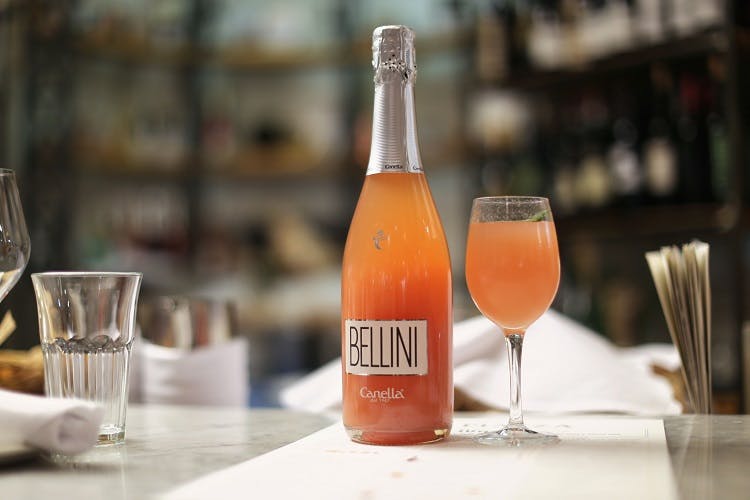 Cipriani's recipe calls to gently stir two parts Prosecco and one part fresh peach pureé, served in a chilled flute. Legend has it that the drink's characteristic sunset shade reminded the bartender of the strikingly chromatic paintings by 15th-century Venetian artist Giovani Bellini, hence the name. Thanks to Cipriani's international regulars, word of the refreshing drink quickly spread to New York, Paris, and beyond.
Meanwhile, closer to home, Luciano Canella had started his own Prosecco-centric winery in the hills outside of Venezia in 1947, just one year before the Bellini's beginning. After Luciano retired, his four children took over production, continuing to produce the high-quality sparkling wine in their father's traditional style (the wine earned the first DOCG certification in their wine region!). In 1988, the family decided to spice it up: Bellini in a bottle! Canella's ready-to-go Bellini combines the winery's Prosecco with ripe white peaches handpicked from the family orchards and – their unique touch – just a few drops of wild raspberry juice.
Thirsty yet?