Located on the North Public Plaza across the street from our flagship store at 23rd and Fifth Avenue, Eataly Kiosk in Flatiron Plaza offers the perfect treat for warmer days: traditional Pizza Napoletana, a newly crafted beverage menu, artisanal gelato and granita, and more!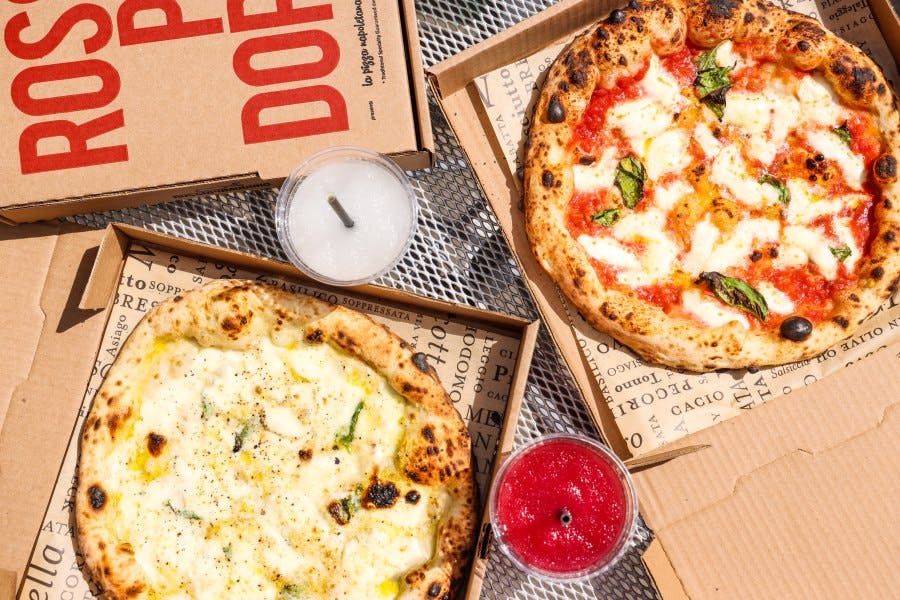 LA PIZZA NAPOLETANA
We know New Yorkers love pizza, so we've decided to team up with the experts at Rossopomodoro, the Napoli-based pizza company, to bring Neapolitan pizza to the Eataly Kiosk made according to the UNESCO-recognized, generations-old techniques. Creamy mozzarella, charred yet elastic crust, sweet San Marzano tomatoes, and fresh seasonal toppings make for a pizza so delicious you will be singing along with our vibrant Neapolitan pizzaioli.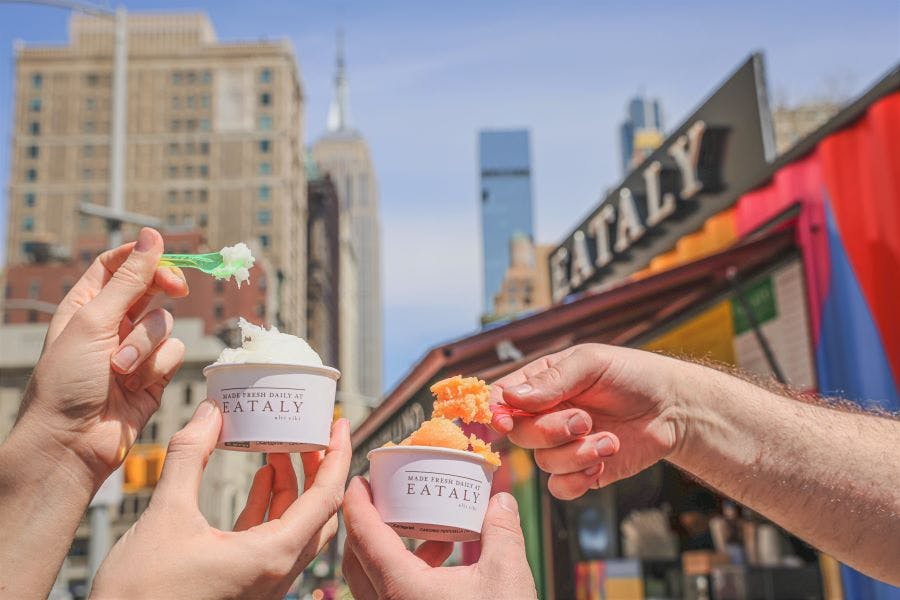 GELATO SEASON IS BACK!
When the warmer months start taking over the city there is only one way to enjoy the outdoors: with a view of the iconic Flatiron building and a cup of Eataly gelato! Eataly gelato is made in-house daily in small batches using local, pasteurized whole milk from Hudson Valley Dairy, churned together with the highest quality ingredients, like pistachios from Sicilia and hazelnuts from Piemonte. Our range of sorbetto is made with real, whole fruit and is both dairy-free and egg-free.
This season, try the decadent twist to a classic flavor with the Loacker Tiramisù, a housemade vanilla gelato churned with Loacker Tiramisù Wafer cookies, or go for the refreshing Sorbetto al Limone, made with Natalie's Juice Lemonade. Always made with 4 ingredients or less, their lemonades put us in a summer state, all year long!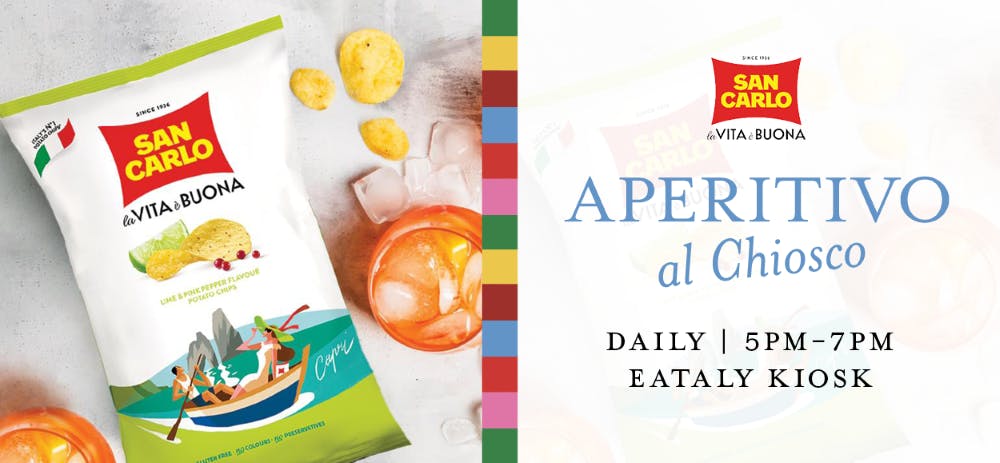 THE AUTHENTIC ITALIAN APERITIVO
Available daily from 5 p.m. to 7 p.m.
The real Italian aperitivo? It's the one with San Carlo! From now through September 30th, stop by Eataly Kiosk from 5-7pm, order any two drinks—whether a refreshing birra or a classic spritz—and receive a complimentary bag of San Carlo chips! 
You will be carried in the heart of Italia with a single bite of crunchy San Carlo chips and ready to celebrate summer like a true #Eatalian.
A tasteful trip through the most iconic Italian cities and sensational Italian flavors: since 1936, San Carlo has been using only prime ingredients and following traditional recipes to bring the finest tastes all around the world. #LaVitaèBuona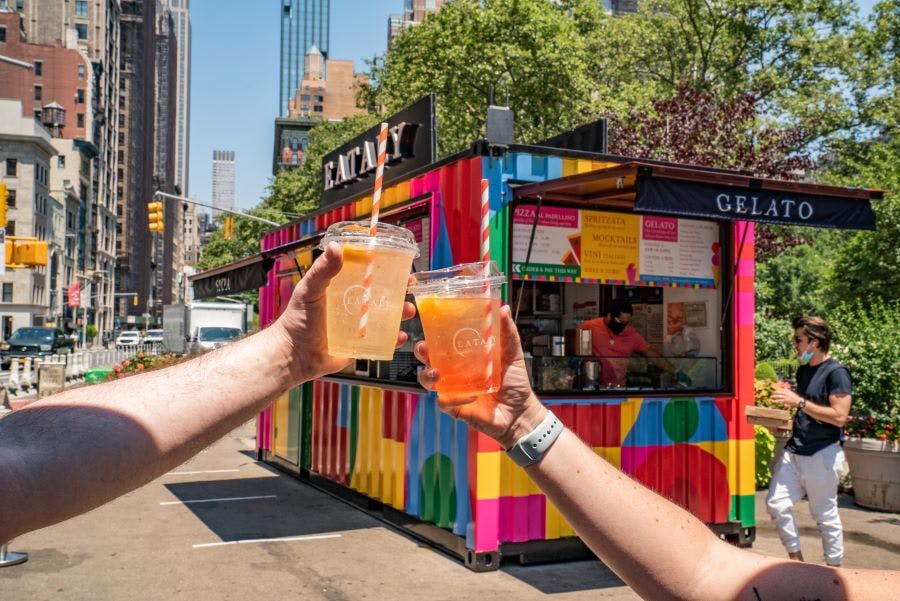 ALL THE WAYS TO SPRITZ
Looking to ramp up your outdoor happy hour? We have partnered with St. Agrestis, a Brooklyn-based distillery that crafts Italian-inspired spirits with old-world methods. This season try theSt. Agrestis Spritz, a ready-to-drink aperitivo spritz or the Negroni Spritz, using St. Agrestis Phony Negroniand a splash of Prosecco. In addition to the St. Agrestis apertivo options, enjoy acurated selection of Italian wine and beer and cheers to the warm weather.
OLIMPIA ZAGNOLI FOR EATALY KIOSK
"Pizza! Gelato! Ciao! New York! Four words that need no translation, wrapped around the Eataly kiosk in the shadow of the Flatiron Building, celebrating these magic ingredients of Italian cuisine and the city that hosts them. A pop homage to these two cultures, like a perfect hug between Alighiero Boetti and Barbara Stauffacher Solomon and her Supergraphics."  – Olimpia Zagnoli
Olimpia Zagnoli is a Milano-based artist who creates fresh, voluptuous forms in her own clean palette of brights and darks. After graduating from design school in Italy, she burst upon the New York media scene in 2008. Her work has appeared in (or on) the New York Times, the New Yorker, the New York subway system, the Guggenheim – and now this very kiosk.