All You Can Eataly is back on June 2, 2023 and we're going all out to celebrate Festa della Repubblica, the Italian equivalent of July 4th. For one night, our marketplace will be closed to the public and open to ticketholders who can experience an all-inclusive party with 50+ Italian Vini, 25+ beers, 25+ authentic Italian food tasting stations, chef demonstrations, live concert, DJ sets, a photobooth, and so much more. Get ready for All You Can Eataly: Festa della Repubblica!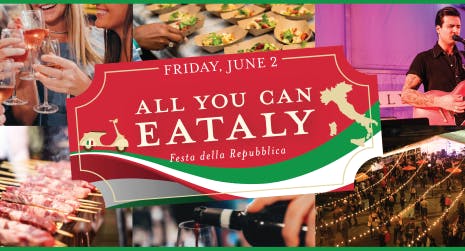 What is Festa della Repubblica?
Every June 2, our compatriots in Italy celebrate Festa della Repubblica, or Republic Day, a national holiday that commemorates the date when Italians voted to abolish the monarchy and form a republic. In 1946, World War II had just ended – and with it Fascism – and the Italian people were eager to usher in a new chapter of freedom. Since then, Italy has been a unitary parliamentary republic.
Accordingly, June 2 is a major holiday in our home country. Offices, banks, and schools close; grand parades march; and a ceremonial wreath is laid on the Tomb of the Unknown Soldier. The tomb and its eternal flame are enshrined in the Altare della Patria in Rome, a modern symbol of Italy.

Here at Eataly, we're celebrating Festa della Repubblica with a celebration unlike anything we've hosted before. With endless Italian food, beverage, and entertainment, All You Can Eataly: Festa della Repubblica will be the ultimate Republic Day festivity.
General Admission tickets are $125 per person and include:
- 25+ tasting stations
- More than 50 regional Italian wines to taste throughout the marketplace
- 25+ local and Italian beers
- Multiple cocktail bars featuring your favorite Italian libations
- In-person chef demonstrations of classic Italian fare
- Live music in our outdoor tent featuring local band Emerald City Band All Stars and Iron Vine. Inside, DJ Steffi will keep the energy high and the music going all night
VIP tickets are $195 per person and include everything from General Admission plus
- Early access to our entire event (doors will open at 6 p.m.)
- Premium chef tastings
- A dedicated VIP lounge in Terra with a curated selection of premium Italian vini (available only 6pm-7pm)
Doors will open to VIP ticket holders from 6-10 p.m. on June 2, and 7-10 p.m. for General Admission ticket holders.