Sale-a-brate

Join our anniversary Sale-a-bration! All month long, celebrate 15 years of Eataly with up to 50% off hundreds of high-quality products.* Check back for weekly pop-up sales, explore salumi & formaggi offers, and more!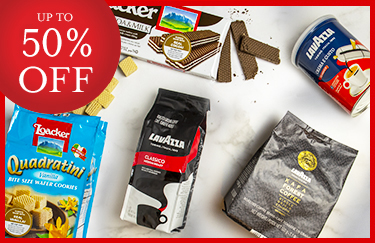 POP-UP: Loacker & Lavazza
Get Loacker wafers and chocolates and Lavazza coffee with up to 50% off!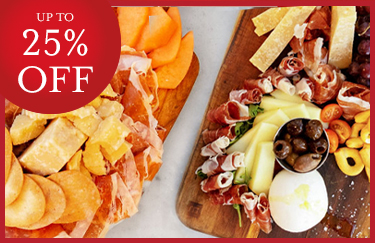 SALUMI & FORMAGGI
Discover Italian salumi and formaggi, delivered right to your door!
-25%

Fraccaro

Regular Price: $7.90

Special Price $5.90

Limited to 10000 items per customer while supplies last.

Devi effettuare l'accesso per aggiungere un prodotto ai preferiti

New!

-17%

Galbusera

Regular Price: $5.90

Special Price $4.90

Limited to 10000 items per customer while supplies last.

Devi effettuare l'accesso per aggiungere un prodotto ai preferiti

New!

-17%

Galbusera

Regular Price: $5.90

Special Price $4.90

Limited to 10000 items per customer while supplies last.

Devi effettuare l'accesso per aggiungere un prodotto ai preferiti

New!

-20%

Galbusera

Regular Price: $6.90

Special Price $5.50

Limited to 10000 items per customer while supplies last.

Devi effettuare l'accesso per aggiungere un prodotto ai preferiti

New!

-20%

Galbusera

Regular Price: $6.90

Special Price $5.50

Limited to 10000 items per customer while supplies last.

Devi effettuare l'accesso per aggiungere un prodotto ai preferiti

-18%

Gentilini

Regular Price: $7.90

Special Price $6.50

Limited to 10000 items per customer while supplies last.

Devi effettuare l'accesso per aggiungere un prodotto ai preferiti

-11%

Venchi

Regular Price: $8.90

Special Price $7.90

Limited to 10000 items per customer while supplies last.

Devi effettuare l'accesso per aggiungere un prodotto ai preferiti

-10%

Venchi

Regular Price: $9.90

Special Price $8.90

Limited to 10000 items per customer while supplies last.

Devi effettuare l'accesso per aggiungere un prodotto ai preferiti

-20%

Vicenzi

Regular Price: $21.90

Special Price $17.50

Limited to 10000 items per customer while supplies last.

Devi effettuare l'accesso per aggiungere un prodotto ai preferiti

-30%

Muzzi

Regular Price: $19.90

Special Price $13.93

Limited to 10000 items per customer while supplies last.

Devi effettuare l'accesso per aggiungere un prodotto ai preferiti

-30%

Antica Bronte Dolceria

Regular Price: $26.90

Special Price $18.83

Limited to 10000 items per customer while supplies last.

Devi effettuare l'accesso per aggiungere un prodotto ai preferiti

New!

-30%

Vincente

Regular Price: $34.90

Special Price $24.43

Limited to 10000 items per customer while supplies last.

Devi effettuare l'accesso per aggiungere un prodotto ai preferiti

New!

-30%

Vincente

Regular Price: $32.90

Special Price $23.03

Limited to 10000 items per customer while supplies last.

Devi effettuare l'accesso per aggiungere un prodotto ai preferiti

-30%

Muzzi

Regular Price: $23.90

Special Price $16.73

Limited to 10000 items per customer while supplies last.

Devi effettuare l'accesso per aggiungere un prodotto ai preferiti

-50%

Superga

Regular Price: $99.90

Special Price $49.95

Limited to 10000 items per customer while supplies last.

Devi effettuare l'accesso per aggiungere un prodotto ai preferiti

-50%

Superga

Regular Price: $99.90

Special Price $49.95

Limited to 10000 items per customer while supplies last.

Devi effettuare l'accesso per aggiungere un prodotto ai preferiti

-20%

Vitali

Regular Price: $13.40

Special Price $10.72

Limited to 10000 items per customer while supplies last.

Devi effettuare l'accesso per aggiungere un prodotto ai preferiti

-20%

Tanara

Regular Price: $15.90

Special Price $12.72

Limited to 10000 items per customer while supplies last.

Devi effettuare l'accesso per aggiungere un prodotto ai preferiti

-25%

Tempesta

Regular Price: $27.50

Special Price $20.63

Limited to 10000 items per customer while supplies last.

Devi effettuare l'accesso per aggiungere un prodotto ai preferiti

-25%

Tempesta

Regular Price: $26.00

Special Price $19.50

Limited to 10000 items per customer while supplies last.

Devi effettuare l'accesso per aggiungere un prodotto ai preferiti

-25%

Tempesta

Regular Price: $20.00

Special Price $15.00

Limited to 10000 items per customer while supplies last.

Devi effettuare l'accesso per aggiungere un prodotto ai preferiti

-15%

Ferrarini

Regular Price: $16.40

Special Price $13.94

Limited to 10000 items per customer while supplies last.

Devi effettuare l'accesso per aggiungere un prodotto ai preferiti

-15%

Ferrarini

Regular Price: $13.40

Special Price $11.39

Limited to 10000 items per customer while supplies last.

Devi effettuare l'accesso per aggiungere un prodotto ai preferiti

-15%

Ferrarini

Regular Price: $12.40

Special Price $10.54

Limited to 10000 items per customer while supplies last.

Devi effettuare l'accesso per aggiungere un prodotto ai preferiti

-20%

Recla

Regular Price: $10.90

Special Price $8.72

Limited to 10000 items per customer while supplies last.

Devi effettuare l'accesso per aggiungere un prodotto ai preferiti

-15%

Guffanti

Regular Price: $15.40

Special Price $13.09

Limited to 10000 items per customer while supplies last.

Devi effettuare l'accesso per aggiungere un prodotto ai preferiti

-20%

Sardaforme

Regular Price: $14.40

Special Price $11.52

Limited to 10000 items per customer while supplies last.

Devi effettuare l'accesso per aggiungere un prodotto ai preferiti

-20%

Consorzio di Valorizzazione dei Prodotti dell'Antica Razza Reggiana

Regular Price: $21.40

Special Price $17.12

Limited to 10000 items per customer while supplies last.

Devi effettuare l'accesso per aggiungere un prodotto ai preferiti

-20%

Arrigoni Formaggi

Regular Price: $20.40

Special Price $16.32

Limited to 10000 items per customer while supplies last.

Devi effettuare l'accesso per aggiungere un prodotto ai preferiti

-20%

Agriform

Regular Price: $16.40

Special Price $13.12

Limited to 10000 items per customer while supplies last.

Devi effettuare l'accesso per aggiungere un prodotto ai preferiti

-20%

Fiandino

Regular Price: $13.90

Special Price $11.12

Limited to 10000 items per customer while supplies last.

Devi effettuare l'accesso per aggiungere un prodotto ai preferiti

-20%

Cooperativa Produttori Latte e Fontina

Regular Price: $13.40

Special Price $10.72

Limited to 10000 items per customer while supplies last.

Devi effettuare l'accesso per aggiungere un prodotto ai preferiti

-20%

Arrigoni Formaggi

Regular Price: $12.40

Special Price $9.92

Limited to 10000 items per customer while supplies last.

Devi effettuare l'accesso per aggiungere un prodotto ai preferiti

-20%

Mila

Regular Price: $11.90

Special Price $9.52

Limited to 10000 items per customer while supplies last.

Devi effettuare l'accesso per aggiungere un prodotto ai preferiti

-20%

Fulvi

Regular Price: $9.90

Special Price $7.92

Limited to 10000 items per customer while supplies last.

Devi effettuare l'accesso per aggiungere un prodotto ai preferiti