Sale-a-brate
Join our anniversary Sale-a-bration! All month long, celebrate 14 years of Eataly with up to 60% off hundreds of high-quality products.* Check back for weekly pop-up sales, explore salumi & formaggi offers, and more!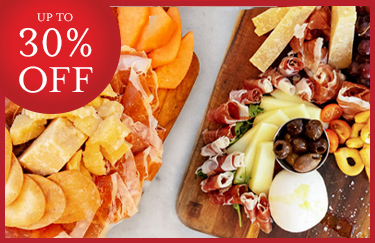 SALUMI & FORMAGGI
Discover Italian salumi and formaggi, delivered right to your door!




*Nota bene: Sale-a-bration runs until Sunday, February, 7, 2021 at 11:59 p.m. E.S.T. Sales may vary between the brick-and-mortar stores and Eataly.com; find your local Eataly's sales here. May not be combined with ongoing promotions. Limited to three items per customer, while supplies last.

-40%

Loacker

Regular Price: $2.90

Special Price $1.74

Limited to 10000 items per customer while supplies last.

Devi effettuare l'accesso per aggiungere un prodotto ai preferiti

-40%

Loacker

Regular Price: $2.90

Special Price $1.74

Limited to 10000 items per customer while supplies last.

Devi effettuare l'accesso per aggiungere un prodotto ai preferiti

-40%

Loacker

Regular Price: $2.90

Special Price $1.74

Limited to 10000 items per customer while supplies last.

Devi effettuare l'accesso per aggiungere un prodotto ai preferiti

-40%

Loacker

Regular Price: $2.90

Special Price $1.74

Limited to 10000 items per customer while supplies last.

Devi effettuare l'accesso per aggiungere un prodotto ai preferiti

-40%

Loacker

Regular Price: $2.90

Special Price $1.74

Limited to 10000 items per customer while supplies last.

Devi effettuare l'accesso per aggiungere un prodotto ai preferiti

-30%

Arrigoni Formaggi

Regular Price: $8.90

Special Price $6.23

Limited to 10000 items per customer while supplies last.

Devi effettuare l'accesso per aggiungere un prodotto ai preferiti

-30%

Ghidetti

Regular Price: $6.90

Special Price $4.83

Limited to 10000 items per customer while supplies last.

Devi effettuare l'accesso per aggiungere un prodotto ai preferiti

-30%

Mila

Regular Price: $10.90

Special Price $7.63

Limited to 10000 items per customer while supplies last.

Devi effettuare l'accesso per aggiungere un prodotto ai preferiti

-30%

Mila

Regular Price: $9.90

Special Price $6.93

Limited to 10000 items per customer while supplies last.

Devi effettuare l'accesso per aggiungere un prodotto ai preferiti

-30%

Mila

Regular Price: $17.90

Special Price $12.53

Limited to 10000 items per customer while supplies last.

Devi effettuare l'accesso per aggiungere un prodotto ai preferiti

-30%

Sardaforme

Regular Price: $11.90

Special Price $8.33

Limited to 10000 items per customer while supplies last.

Devi effettuare l'accesso per aggiungere un prodotto ai preferiti

-30%

Recla

Regular Price: $9.90

Special Price $6.93

Limited to 10000 items per customer while supplies last.

Devi effettuare l'accesso per aggiungere un prodotto ai preferiti

-15%

Guffanti

Regular Price: $17.90

Special Price $15.22

Limited to 10000 items per customer while supplies last.

Devi effettuare l'accesso per aggiungere un prodotto ai preferiti

-30%

Fiandino

Regular Price: $11.90

Special Price $8.33

Limited to 10000 items per customer while supplies last.

Devi effettuare l'accesso per aggiungere un prodotto ai preferiti

-25%

Eataly

Regular Price: $99.90

Special Price $74.90

Limited to 10000 items per customer while supplies last.

Devi effettuare l'accesso per aggiungere un prodotto ai preferiti

-42%

Pasta Natura

Regular Price: $5.90

Special Price $3.42

Limited to 10000 items per customer while supplies last.

Devi effettuare l'accesso per aggiungere un prodotto ai preferiti

-28%

Afeltra

Regular Price: $6.90

Special Price $5.00

Limited to 10000 items per customer while supplies last.

Devi effettuare l'accesso per aggiungere un prodotto ai preferiti

-28%

Afeltra

Regular Price: $6.90

Special Price $5.00

Limited to 10000 items per customer while supplies last.

Devi effettuare l'accesso per aggiungere un prodotto ai preferiti

-33%

Aironi

Regular Price: $8.90

Special Price $6.00

Limited to 10000 items per customer while supplies last.

Devi effettuare l'accesso per aggiungere un prodotto ai preferiti

-20%

Lidia's

Regular Price: $2.50

Special Price $2.00

Limited to 10000 items per customer while supplies last.

Devi effettuare l'accesso per aggiungere un prodotto ai preferiti

-20%

Lidia's

Regular Price: $2.50

Special Price $2.00

Limited to 10000 items per customer while supplies last.

Devi effettuare l'accesso per aggiungere un prodotto ai preferiti

-20%

Lidia's

Regular Price: $2.50

Special Price $2.00

Limited to 3 items per customer while supplies last.

Devi effettuare l'accesso per aggiungere un prodotto ai preferiti

-20%

Lidia's

Regular Price: $2.50

Special Price $2.00

Limited to 10000 items per customer while supplies last.

Devi effettuare l'accesso per aggiungere un prodotto ai preferiti

-20%

Lidia's

Regular Price: $2.50

Special Price $2.00

Limited to 10000 items per customer while supplies last.

Devi effettuare l'accesso per aggiungere un prodotto ai preferiti

-20%

Lidia's

Regular Price: $2.50

Special Price $2.00

Limited to 10000 items per customer while supplies last.

Devi effettuare l'accesso per aggiungere un prodotto ai preferiti

-37%

Pastificio Morelli

Regular Price: $7.90

Special Price $5.00

Limited to 10000 items per customer while supplies last.

Devi effettuare l'accesso per aggiungere un prodotto ai preferiti

-39%

Rigorosa

Regular Price: $4.90

Special Price $3.00

Limited to 10000 items per customer while supplies last.

Devi effettuare l'accesso per aggiungere un prodotto ai preferiti

-39%

Rigorosa

Regular Price: $4.90

Special Price $3.00

Limited to 10000 items per customer while supplies last.

Devi effettuare l'accesso per aggiungere un prodotto ai preferiti

-24%

Mario Fongo

Regular Price: $5.90

Special Price $4.50

Limited to 10000 items per customer while supplies last.

Devi effettuare l'accesso per aggiungere un prodotto ai preferiti

-32%

Cascina Belvedere

Regular Price: $5.90

Special Price $4.00

Limited to 10000 items per customer while supplies last.

Devi effettuare l'accesso per aggiungere un prodotto ai preferiti

-12%

Roi

Regular Price: $16.90

Special Price $14.90

Limited to 10000 items per customer while supplies last.

Devi effettuare l'accesso per aggiungere un prodotto ai preferiti

-18%

Frantoi Cutrera

Regular Price: $39.90

Special Price $32.90

Limited to 10000 items per customer while supplies last.

Devi effettuare l'accesso per aggiungere un prodotto ai preferiti

-24%

Premiati Oleifici Barbera

Regular Price: $16.90

Special Price $12.90

Limited to 10000 items per customer while supplies last.

Devi effettuare l'accesso per aggiungere un prodotto ai preferiti

-15%

Premiati Oleifici Barbera

Regular Price: $19.90

Special Price $16.90

Limited to 10000 items per customer while supplies last.

Devi effettuare l'accesso per aggiungere un prodotto ai preferiti

-30%

Acetaia Dodi

Regular Price: $16.90

Special Price $11.90

Limited to 10000 items per customer while supplies last.

Devi effettuare l'accesso per aggiungere un prodotto ai preferiti