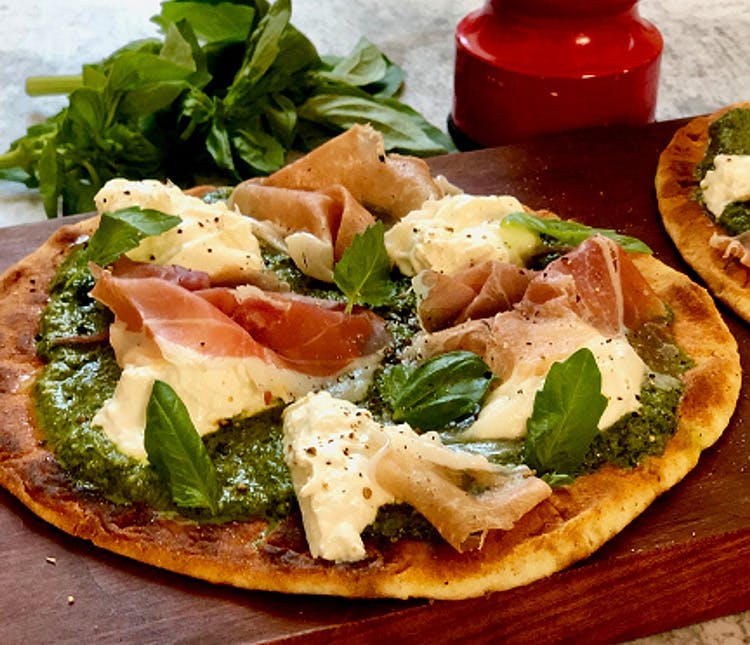 Prosciutto di San Daniele PDO and pesto make a perfect pair in this simple yet show-stopping pizza recipe.A bright and flavorful pesto is made from a blend of basil, oil, walnuts, garlic, and Grana Padano PDO cheese whipped in a food processor until velvety smooth. Spread the pesto onto toasted flatbreads with burrata cheese and drape delicate slices of Prosciutto di San Daniele PDO to create a fragrant pizza that makes for a sublime solo lunch, or shareable snack with family and friends.
Pesto Pizza with Prosciutto di San Daniele PDO, Burrata & Grana Padano PDO cheese
Makes 4 pizzas
¾ cups loosely packed basil, plus small leaves for garnish
¼ cup olive oil
¼ cup walnuts
2 tablespoons grated Grana Padano PDO cheese
1 small garlic clove
¼  teaspoon salt
4 flatbreads or naan
8 ounces burrata cheese
8 slices Prosciutto di San Daniele PDO, halved
Pepper, to taste
Preheat broiler to HI. In food processor, combine basil, oil, walnuts, Grana Padano PDO cheese, garlic and salt; whirl until smooth.
On a sheet tray, arrange flatbreads. Place under broiler until golden and toasted, about 4 minutes. Turn over and toast until golden, 4 more minutes. Remove from oven, spread each with 2 tablespoons of the pesto. Return to oven for 1 more minute or until pesto is fragrant and set. Remove from oven and transfer to a cooling rack.
Gently break burrata apart and divide evenly among each pizza. Drape 4 halves of Prosciutto di San Daniele PDO over Grana Padano PDO cheese. Season with pepper and reserved basil leaves if desired.

The producers of Prosciutto di San Daniele PDO, Grana Padano PDO cheese and Prosciutto di Parma PDO are excited to be part of a campaign funded by the European Union to celebrate the legendary quality, tradition and taste of these world–renowned products. In subtle or dramatic ways, these products look and taste different, yet also have a lot in common. Each has been made for centuries in a particular place with traditional production methods, and each belongs to an elite group of European products certified under the Protected Designation of Origin (PDO) system, guaranteeing quality and authenticity. Discover more recipes from the Icons of European Taste here.