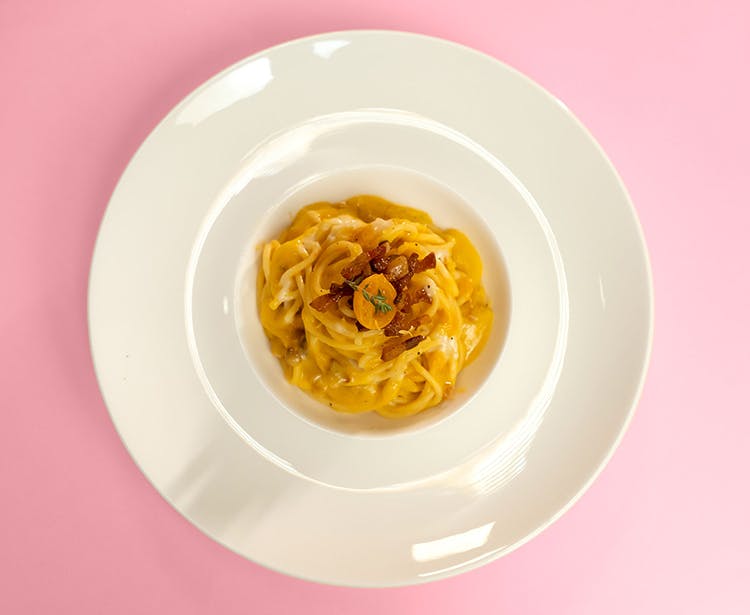 Rome – the region of Carbonara, Cacio e Pepe, and Amatriciana — not to mention ancient ruins, squares, churches, parks, masterpieces of art, and some of the most visited monuments in the world.
Bucatini all'Amatriciana is a typical dish of the gastronomic tradition of Amatrice, a town in the province of Rieti. The most classic mistake made when preparing bucatini all'amatriciana is to use garlic or onion to give character to the sauce: you won't find garlic or onion in this recipe!
Così Com'è has revisited this classic recipe using spaghetti cooked risottati (in the style of risotto) with a Yellow Datterino sauce that imparts delicious sweetness and vivid color. Its balanced taste is given a slightly salty kick thanks to savory slices of guanciale.
Risotto-style Spaghetti all'Amatriciana with Così Com'è Yellow Datterini Tomatoes, Guanciale and Pecorino Cream
320 grams bronze-extruded durum wheat spaghetti
150 grams of guanciale
1 jar of Così Com'è Yellow Datterini Peeled in Juice
1 teaspoon of lard (or 2 tablespoons of extra virgin olive oil)
Pecorino di Amatrice, to taste
For the cream:
50 grams fresh Pecorino Romano
50 ml of water
Extra Virgin Olive Oil, to taste
Salt & pepper, to taste
For the sauce: Cut the guanciale into strips of the same thickness — not too thin. It's better to avoid reducing the guanciale into cubes: the fat would risk remaining too hard.
Dissolve a teaspoon of lard in a pan and immediately add the strips of guanciale.
Sauté over low heat until the guanciale fat has taken on a nice golden yellow color and a crust has formed. Once the guanciale is ready, set it aside.
Prepare l'Acqua Profumata (scented water) with the pepper and guanciale: Put the rind of the guanciale and crushed peppercorns in a deep pan of cold water and bring to a boil.
Put the yellow datterini tomatoes in a blender and strain, eliminating all the seeds.
Now, you're ready to cook the pasta! In the same pan that the guanciale was cooked in, drop the raw spaghetti and start cooking it risottata (like a risotto), first by adding some of the pepper-scented water, then continue cooking by adding the Datterino puree.
Continue to carefully mix without breaking the pasta, setting a ladle of puree aside for a finishing touch.
For the pecorino cream: grate the pecorino and put it in a bowl. Add a little water from the pasta and pepper, mixing just the right amount of time to allow the ingredients to mix.
Finishing: Once the spaghetti is cooked al dente, taste and season with salt, considering that the guanciale will add a salty flavor.
Remove from the heat and add ¾ of the crispy guanciale.
Plate the dish, and add a sprinkle of pecorino to the pasta and a pinch of black pepper. Serve with drops of pecorino cream and the rest of the crispy guanciale.
Pick up Così Com'è tomatoes at your local Eataly, or shop online!