At Eataly, we encourage you to cook at home. Donning the apron need not take hours, though – especially with this simple, quality recipe for linguine al pesto.In Ligurian dialect,pestâmeans "crush." Pesto, originating in Liguria's port city Genova, is typically comprised of freshly crushed basil, extra virgin olive oil, pine nuts, sea salt, and garlic.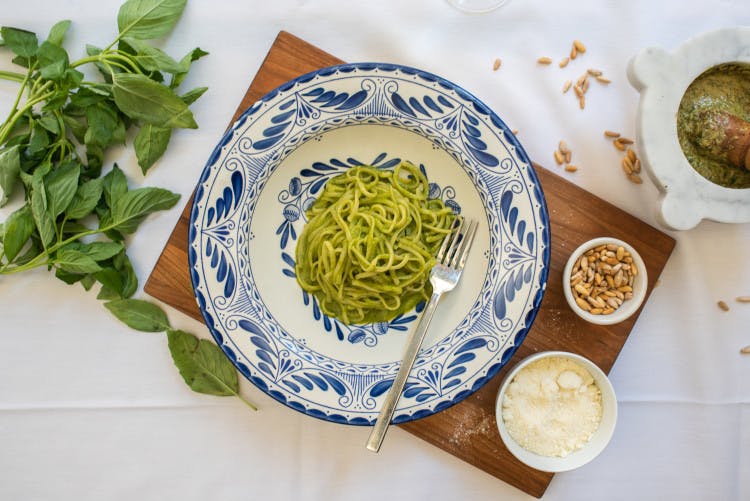 Preparation time
30 minutes
Pasta al Pesto (Pesto Pasta)
1
Bring 6 quarts of water to a boil, and add enough salt to make it a bit less salty than the sea (about 2-3 tablespoons).
Meanwhile, place the pesto in a sauté pan or a shallow mixing dish, and set aside.
2
Cook the pasta in the boiling water until almostal dente,and drain, reserving 1 cup of the pasta's cooking water.
3
Add the pasta to the pesto in the sauté pan or shallow mixing dish but do notplace overheat! Toss to combine, and add a drizzle of extra virgin olive oil. If needed, add a small amount of the pasta cooking water to thin the pesto.
4
When the pasta is completely coated with the pesto, place it into a warmed serving dish, and serve.
Variation: Add 1 cup of blanched young green beans (or haricot verts) and 6 new potatoes, boiled and halved. Toss the cooked vegetables with the pesto sauce before adding the cooked pasta.
Buon appetito!