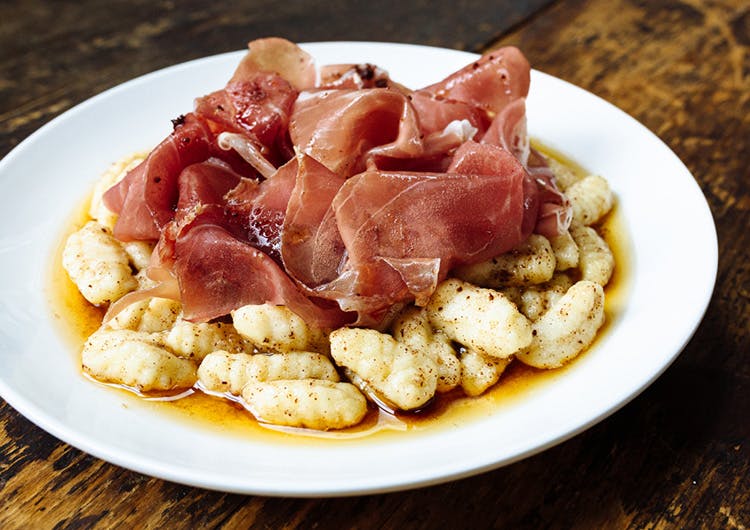 These pillowy potato gnocchi become a delectable dish thanks to a crown of delicate slices of Prosciutto di Parma PDO. The gnocchi are first made from a soft dough comprising a mix of potatoes, flour, eggs, and finely grated Grana Padano PDO cheese. The dough is formed into a long tube before being cut and rolled over a textured surface, one by one, to produce its signature sauce-capturing ridges. Simply served with a brown butter sauce, this recipe celebrates the distinct sweetness of Prosciutto di Parma PDO to create a deep and delicious medley of flavors.

Potato Gnocchi with Brown Butter, Prosciutto di Parma PDO & Grana Padano PDO cheese
Makes 2 servings
Ingredients for Gnocchi
4 medium russet potatoes
2 tsp salt
1/8 tsp white pepper
1 cup Grana Padano PDO cheese, finely grated
1 egg, whisked
1 1/2 cup AP flour
Prosciutto di Parma PDO
Ingredients for Brown Butter
1 cup butter
Roast potatoes in 350 F oven until soft, 45-60 minutes. Scoop out flesh and pass through a ricer (or mash well).
Spread potatoes out on the work surface and sprinkle with salt, pepper, Grana Padano PDO cheese, egg, and flour. Using a fork, gently begin to mix dough just until it comes together, you may need a bit more flour. Do not over mix.
Cut a chunk off of dough and roll out into a long tube about 1/2" diameter. Cut small pieces and roll on a ridged gnocchi board if you have/want to.
In a sauce pot, add butter and cook over medium heat stirring every so often until butter turns brown and smells nutty, then remove from heat.
Blanch gnocchi in salted simmering water for approximately 3-5 minutes until they float. Toss gnocchi in brown butter and a bit of flaky sea salt and plate.
Top with slices of Prosciutto di Parma PDO

The producers of Prosciutto di San Daniele PDO, Grana Padano PDO cheese and Prosciutto di Parma PDO are excited to be part of a campaign funded by the European Union to celebrate the legendary quality, tradition and taste of these world–renowned products. In subtle or dramatic ways, these products look and taste different, yet also have a lot in common. Each has been made for centuries in a particular place with traditional production methods, and each belongs to an elite group of European products certified under the Protected Designation of Origin (PDO) system, guaranteeing quality and authenticity. Discover more recipes from the Icons of European Taste here.