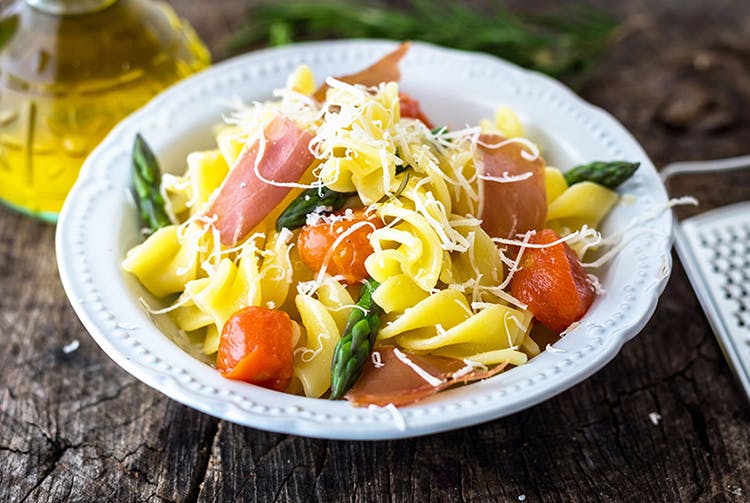 Prosciutto Toscano DOP and Pecorino Toscano DOP cheese pair perfectly in this simple spring pasta dish packed with flavor. Fusilli pasta are married with earthy asparagus and juicy tomatoes that complement the delicate flavors of Prosciutto Toscano DOP and Pecorino Toscano DOP cheese. Prepare this fragrant pasta dish as a primo piatto on a spring day, and celebrate the flavors of the Tuscan region.

Fusilli pasta with asparagus, Prosciutto Toscano DOP, and Pecorino Toscano DOP cheese
Serves 4
400 g of fusilli pasta
200 g of Prosciutto Toscano DOP
250 gr of asparagus
1 shallot
EVO oil to taste
50 g of tomatoes
80 g of grated Pecorino Toscano DOP cheese
Salt and pepper to taste
Clean the asparagus by cutting the hard part at the base and with a knife remove the green part to keep the tenderest one.
Boil the asparagus for about 10 minutes and drain.
In a pan, fry the chopped shallot with tomatoes, EVO oil, asparagus, salt, and pepper and cook for 3 minutes. Add the slices of Prosciutto Toscano DOP and cook for 2 minutes.
Meanwhile, cook the fusilli al dente and mix the pasta with all the ingredients.
Garnish with the grated Pecorino Toscano DOP cheese and serve.

Cut & Share is an information and awareness-raising campaign on Protected Designation of Origin products: Pecorino Toscano DOP and Prosciutto Toscano DOP.A happy encounter between territory and tradition gave birth to these excellent products, which are ambassadors of the real taste for good food to share with joy and pleasure at the table. The project is promoted by Consorzio Pecorino Toscano DOP and Consorzio Prosciutto Toscano DOP, co-financed by the EU, and lasts three years, with events taking place in the United States and Canada.