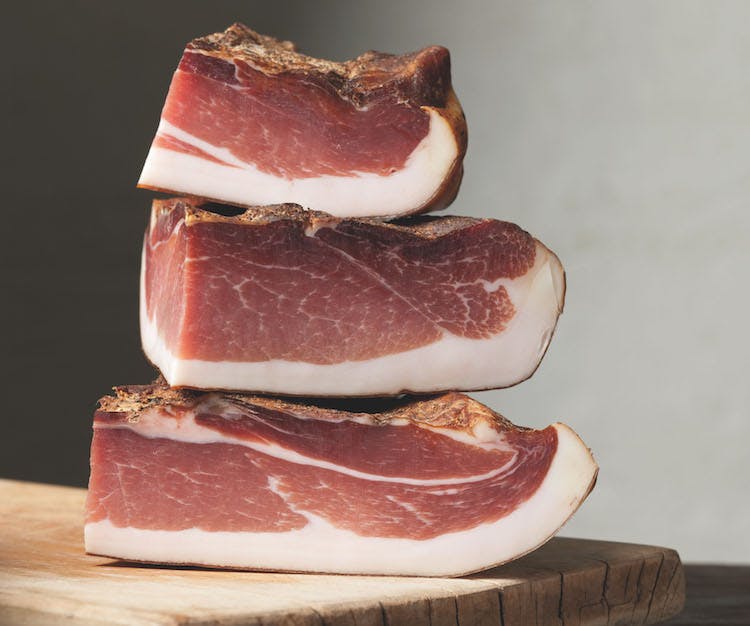 The region of Alto Adige is located in the north of Italy, where the combination of a mild climate, fertile soil, and the Alpine landscape create the perfect environment for the production of wine, milk, and dairy products. Enjoy these recipes highlighting the delights of the Alto Adige region, then shop all the ingredients at your local Eataly.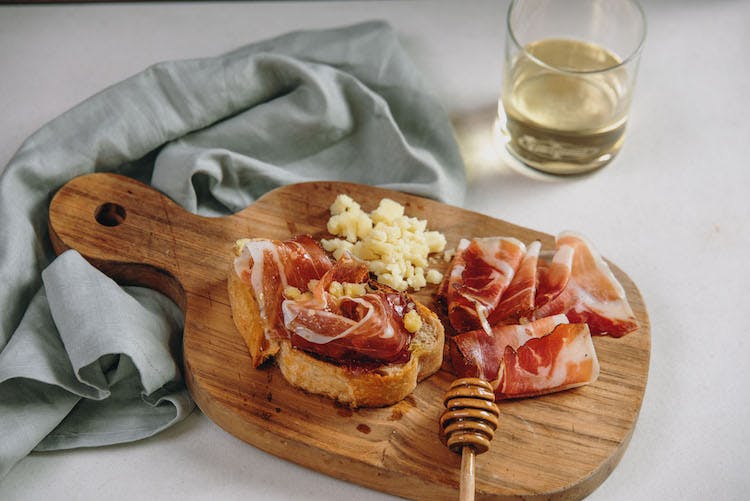 CROSTINI CON STELVIO DOP, SPECK ALTO ADIGE IGP, E MIELE
Inspired by the flavors of Alto Adige, these crostini are topped with aged Stelvio DOP cheese, and Speck Alto Adige IGP, a cured smoked ham from Alto Adige. Each slice is then drizzled with Italian honey, resulting in a sweet-and-savory combination.
Speck Alto Adige IGP is made exclusively in the Alto Adige, where ham has been preserved for centuries in a unique style that blends the traditions of Mediterranean air-curing with the smoke-curing traditions of the Alps. Carefully selected pork legs are massaged with garlic, bay leaf, juniper, rosemary, sea salt, and other spices – each recipe is a carefully guarded secret for each producer – and are partially cured in cold smokers for at least a week.
INGREDIENTS (Serves 4)
Recipe courtesy of Eataly
1 fresh loaf of bread, cut into 12 slices
1/8 cup extra virgin olive oil
Sea salt
12 slices of Speck Alto Adige IGP
4 ounces Stelvio DOP cheese, grated
6 tbsp honey
PREPARATION
Preheat oven to 375 F degrees.
Place slices of bread on a baking cheese and brush with extra virgin olive oil. Sprinkle a little sea salt on each slice. Bake for about 10 minutes, or until slightly golden. Just before removing from the oven, sprinkle each slice with Stelvio DOP. Return to the oven and bake just until cheese has melted. Remove and let cool for about 3 minutes.
Top each crostini with a slice of Speck Alto Adige IGP and drizzle with honey just before serving.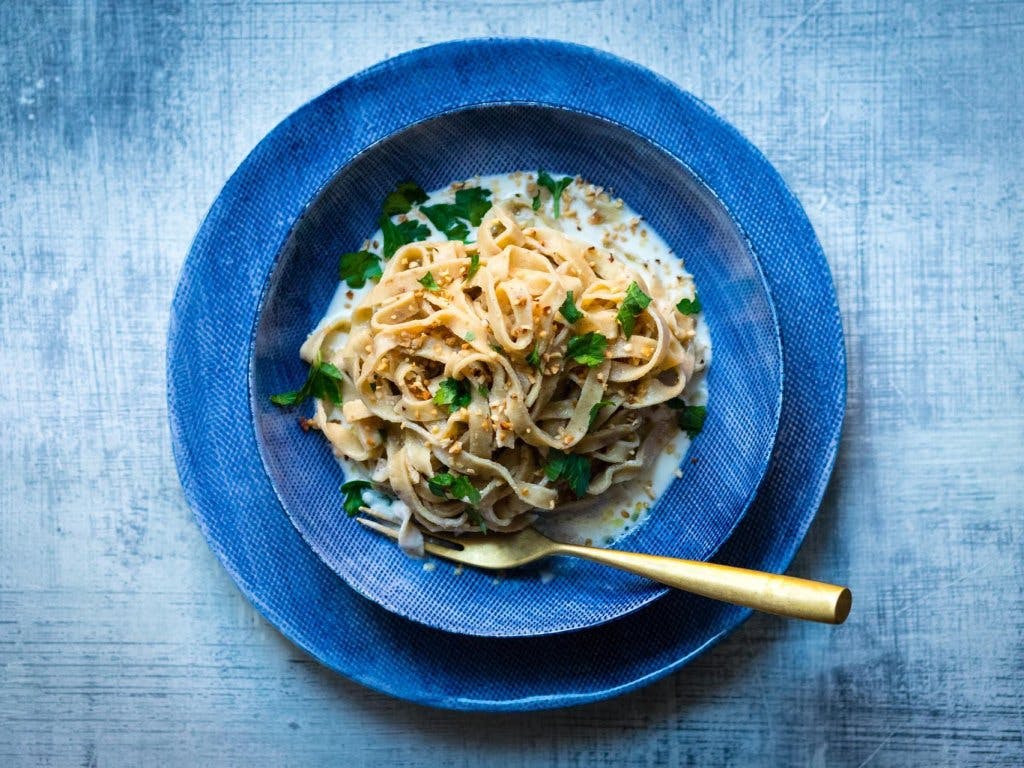 TAGLIATELLE WITH PORCINI MUSHROOMS AND "ALTA BADIA" FONDUTA
Alta Badia cheese is a hard cow's milk cheese typical of the Alto Adige region in northern Italy, taking its name from the valley of the Dolomite mountains from which it comes. Enclosed in a firm, rustic rind, the inside of the cheese is pale yellow in color with a solid, consistent texture. The flavor of the cheese is intense and complex, with milky, toasted, long-lasting notes.
INGREDIENTS (Serves 4)
Recipe courtesy of Mila
100 grams wheat flour
100 grams durum wheat semolina
2 eggs
1 teaspoon olive oil
Salt
1 tablespoon dried, ground porcini
200 milliliters cream
150 grams "Alta Badia" cheese
Pepper
Roasted, ground hazelnuts
PREPARATION
Mix the flour, semolina, and the ground dried porcini mushrooms, then add 2 eggs and knead well together.
Wrap in plastic foil and let rest for 20 minutes.
Roll out the dough and cut it into strips.
Grate the "Alta Badia" cheese, then place in a pan with cream, pepper, and a chunk of butter. Heat until the cheese is completely melted.
Cook the tagliatelle in a large pot of saltwater for a few minutes. Drain and serve with the Fonduta, sprinkled on top with hazelnuts and chopped parsley.