An innovative combination of finely chopped canned tomatoes and feta cheese, this tomato tartare makes a beautiful and delicious first course or appetizer. As the star ingredient, the quality of the canned tomatoes really matters. 
Mutti tomatoes are renowned for their consistently great taste – each tomato remains remarkably fresh tasting, fragrant and naturally-sweet. This is because, at every step in the process, the company has obsessed over quality – the best seeds, the best farmers, the richest soil, the most exhaustive sorting, and an incredibly delicate preservation process.
Try Mutti tomatoes in this recipe and taste the difference for yourself!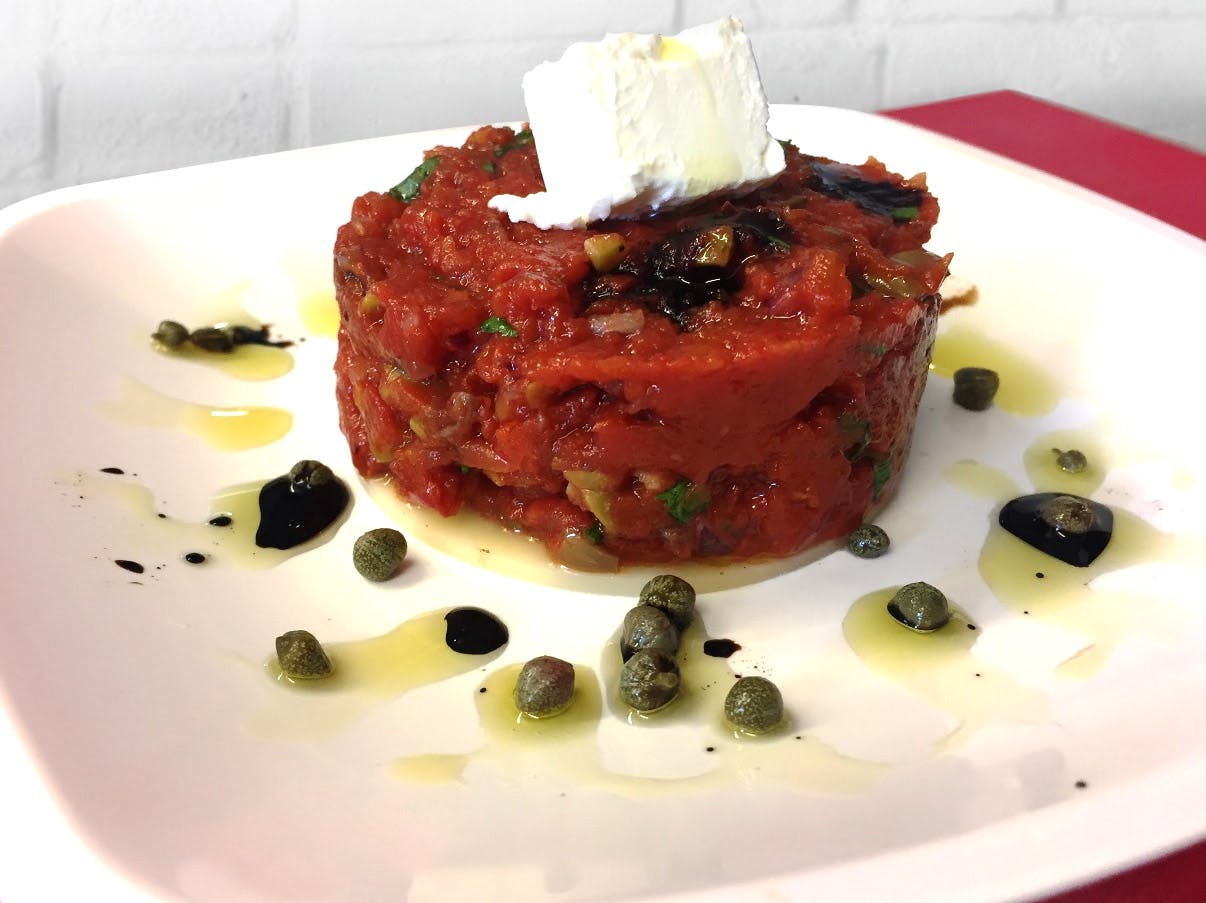 Preparation time
15 minutes
Tartare di Pomodoro (Tomato Tartare)
1 14-ounce can of Mutti finely chopped tomatoes (orpolpa)
2 tablespoons small capers (drained, if in brine; rinsed if salt-packed)
2 tablespoons black olives (such as Kalamata or Taggiasca)
4 thick slices of Pecorino cheese
5 ounces feta cheese, cut in large cubes
3 tablespoons of extra virgin olive oil
1/3 cup basil leaves
1/3 cup parsley
Salt and pepper to taste
Optional: Parmesan crisps and balsamic vinegar (for garnish)
How to prepare tomato tartare
1
Pour the entire can of tomatoes into a fine strainer and let drain for at least 6 hours or overnight. Finely chop the capers, olives, basil, parsley and mix together with the drained tomatoes and olive oil. Add salt and pepper to taste.
2
Using a round form, create four disks from the sliced cheese. Next, using the form, top the cheese with the tomato mixture. Top a cube of feta cheese and decorate with crispy parmesan cheese (if desired), capers, and a drizzle of olive oil and balsamic vinegar.