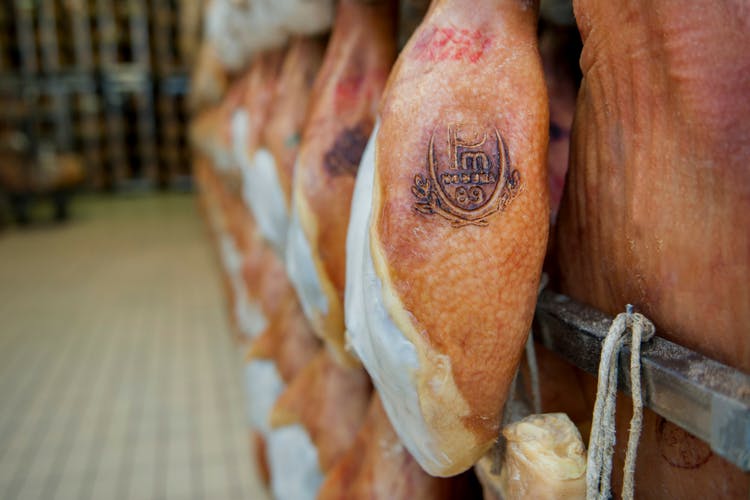 At Eataly, we love prosciutto crudo. Each paper-thin slice of cured pork packs an abundance of sweet, salty, and satisfying flavor. After visiting different prosciuttifici in Italy, our experts chose to offer Prosciutto di Modena DOP, a special variety of prosciutto crudo. Discover the story below!
WHAT IS PROSCIUTTO DI MODENA DOP?
Thanks to regional biodiversity and culinary customs, all prosciutto crudo does not taste the same. Modena, a province located in the northern region of Emilia-Romagna, is known for its ancient and deep-rooted gastronomic traditions, particularly when it comes to making prosciutto! The warm, humid summers and colder winters provide this area with an ideal climate for the production of their famous Prosciutto di Modena DOP.
To be considered Prosciutto di Modena DOP, which stands for Denominazione d'Origine Protetta (protected designation of origin), every step in the production is regulated. The entire process, from salting to curing, must take place in the hills and valleys around the basin of the Panaro river, including the provinces of Bologna and Reggio Emilia.
HOW DOES IT TASTE? 
Typically pear-shaped with a deep red color when sliced, Prosciutto di Modena DOP is made without the use of additives or preservatives. It is flavorful without being too salty, and has a sweet and pleasant flavor that is perfect to pair with stronger cheeses such as Provolone Valpadana DOP. It can also be enjoyed in pasta dishes, such as the filling for tortellini or served with grilled eggplant and yellow melon.
Taste and pair prosciutto for yourself at your local Eataly!