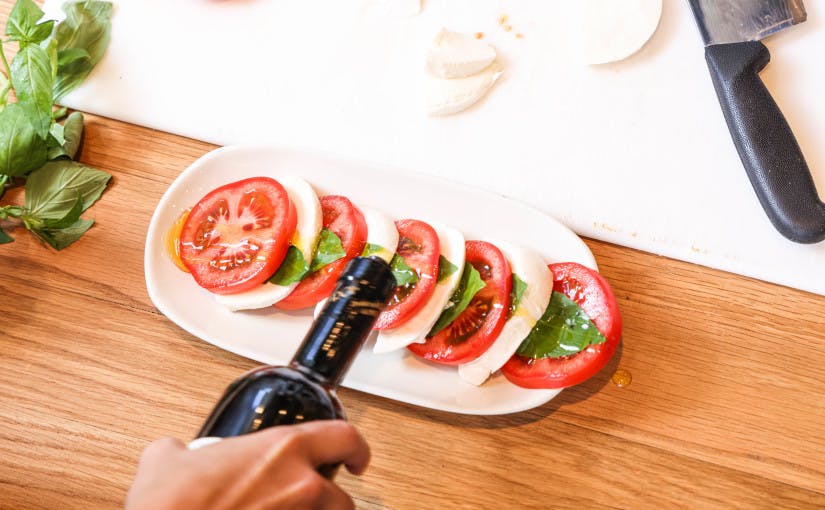 Named for Capri, a sunny island in southern Italy, caprese is a tasty expression of three simple ingredients: tomatoes, mozzarella, and basil. The summer salad is easy to assemble and even easier to enjoy. The only key is — you guessed it — quality. Each component should be the finest you can find. Seek juicy, sun-ripened tomatoes; creamy, freshly-made mozzarella; and bright, fragrant basil. And don't forget that seasonings count: look for high-quality extra virgin olive oil (here's how), sea salt, and freshly-ground black pepper.
1
Assemble the ingredients. For four antipasti, gather a ball of freshly-made mozzarella (hint: we make it fresh daily at your local Eataly), two large ripe tomatoes, and about half a cup of fresh basil leaves.
2
I pomodori. A good fresh tomato can be hard to find, but don't dismay! There are hundreds of varieties, from heirloom in your own backyard to San Marzano in southern Campania. Explore your local farmer's market (and Eataly produce department!) for a perfectly ripe tomato.
3
Slice away. Slice the freshly-made mozzarella and tomatoes into ¼-inch-thick slices.
4
Arrange. Place the tomato and mozzarella on the plate, overlapping slightly.
5
Season. Drizzle extra virgin olive oil over the plate, and season the salad with sea salt and freshly-ground black pepper.
6
Scatter. Add the fresh basil leaves to the top as desired.
7
Enjoy. Serve to your lucky friends and family, and revel in the sweet summer flavors.