Since Giovanni Ponti — called "Giovanni dell'Aceto," or "Johnny Vinegar," started in 1867, the family-run company has produced the finest balsamic vinegar in Italy, in addition to premium sauces, preserved vegetables, and more.
We love this Piemontese producer and want you to fall for them, too! So, we've rounded up 11 ways for you to love Ponti! Explore our ideas, then taste the products for yourself.
Enjoy your Ponti...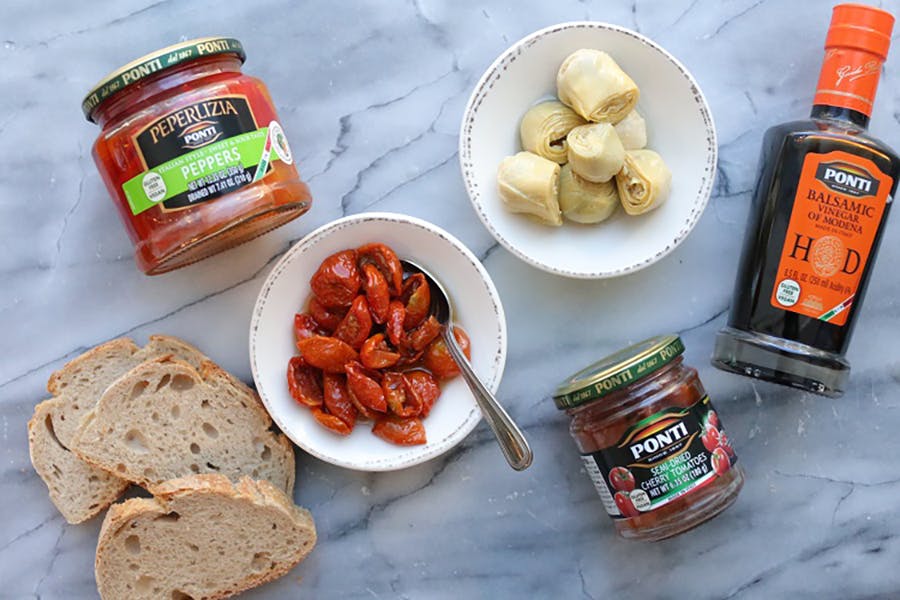 1. FOR APERITIVO.
Mix up an aperitivo, the Italian answer to happy hour, with the high-quality preserved veggies. Can you imagine serving Ponti's elegant artichoke hearts alongside your latest cocktail craze? We'll cheers to that.
2. TO GET SWEET AND SOUR.
With an almost thin flavor lightly spiced with sweetness, Ponti's apple cider vinegar is perfect for agrodolce, a traditional Italian sweet-and-sour sauce. For a simple version, heat equal parts of the vinegar and sugar in a small saucepan until the sugar dissolves. Let the sauce cool, and spoon it over chicken, pork, or salmon.
3. DURING THE BIG GAME.
Just because you're watching American football this Sunday doesn't mean that you can't snack like the Italians! Any of the delicious condiments makes excellent bites with crackers or bread, like Ponti's sweet and sour onions.
4. TO TASTE SUMMER IN ITALY.
Ponti sources all of its produce at the height of ripeness from the rolling green hills of Piemonte. Enjoy these full flavors for yourself with juicy tomato sauces, wild mushrooms in olive oil, and pickled cucumbers.
5. ON EVERYTHING.
Balsamic vinegar of the highest quality can bring out new flavors in almost everything. Drizzle over berries, cheese, and bruschetta; brush on grilled meats; or toss with roasted vegetables (after they have cooled – never heat balsamic vinegar!).
6. WITH VINEGAR'S BEST FRIEND.
Create the ultimate vinaigrette with equal parts Ponti vinegar and — what else — extra virgin olive oil. Dress your salad of seasonal vegetables, such as pinzimonio, with this classic combination.
7. ONE OLIVE AT A TIME.
For a tasty snack at any time, pop black olives. Ponti's are preserved in extra virgin olive oil flavored with herbs harvested from the countryside. These savory bites are also perfect as an antipasto or paired in light dishes, such as baked fish.
8. FOR LUNCH...
Transport your lunch al desko to northern Italy with pasta al pesto. Pair your favorite pasta with fresh basil pesto, and taste delicious chilled.
9. ...AND BEFORE DINNER...
Create the ultimate antipasti platter with Ponti's sun-dried tomatoes and mixed vegetables in olive oil alongside your favorite meats and cheeses.
10. ...AND YES, WITH DINNER!
And after a long day at work, make dinner in less than 30 minutes with Ponti's tomato and garlic sauce. For a simple recipe at home, warm the ready-to-go-sauce, stir in your pasta, and enjoy!
11. OH, AND DON'T FORGET DESSERT!
Drizzle thick aged balsamic vinegar from Modena over creamy vanilla gelato for an elegant and simple dessert.
Taste Ponti for yourself at your local Eataly!