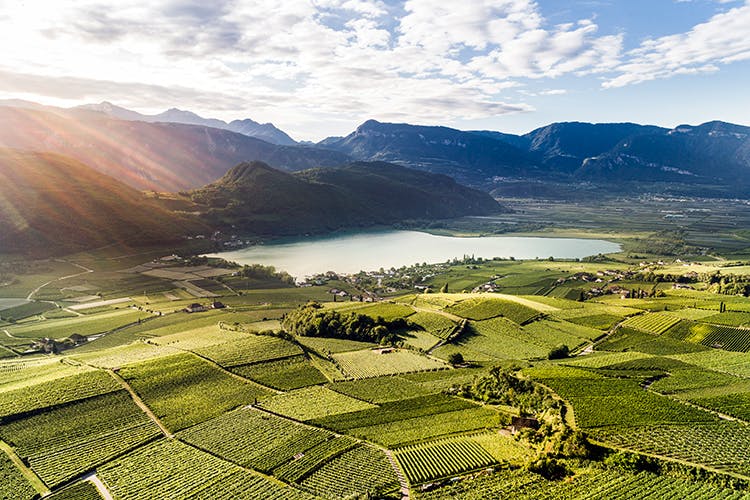 The winegrowing region of Alto Adige is a multifaceted land, where unique wines are shaped by the Alpine landscape, tended to by experienced wine-growers, and prized throughout the world.Wines from Alto Adige – Südtirol: where Alpine meets the Mediterranean.
MEET ALTO ADIGE – SÜDTIROL
Alto Adige – Südtirol is Italy's northernmost wine region nestled in the Alps and Dolomite mountain ranges. Thanks to its geographic location and bi-cultural heritage, Alto Adige – Südtirol is multi-faceted and unlike any other winemaking region. Located between Austria and Switzerland on Italian soil, the region benefits from the best of both worlds – a perfect balance of brisk Alpine air and Mediterranean climate from southern winds. Over 20 different grape varieties are rooted in elevations ranging from 650-3,300 ft.
Coupled with a mosaic of soils, from volcanic porphyry to limestone, the region offers high-quality wines of authentic character. Formerly a part of the Austria-Hungarian Empire, the region became part of Italy after World War I; today it is an autonomous region, which helps preserve its distinct cultural and linguistic background.
Both Italian and German are spoken in the region and over two-thirds of the population are actually native-German speakers. All signs for local towns and villages and even the DOCs bear names in both languages, wine labels are often bilingual as well. Alto Adige – Südtirol is also one of Italy's smallest wine regions with 13,700 total vineyard acres and less than 1% of Italy's total production. A whopping 98% of the wines are DOC/DOP quality—the most in Italy, and it has the highest percentage of "Tre Bicchieri" distinctions from the prestigious Italian wine guide Gambero Rosso—in relation to total vineyard area.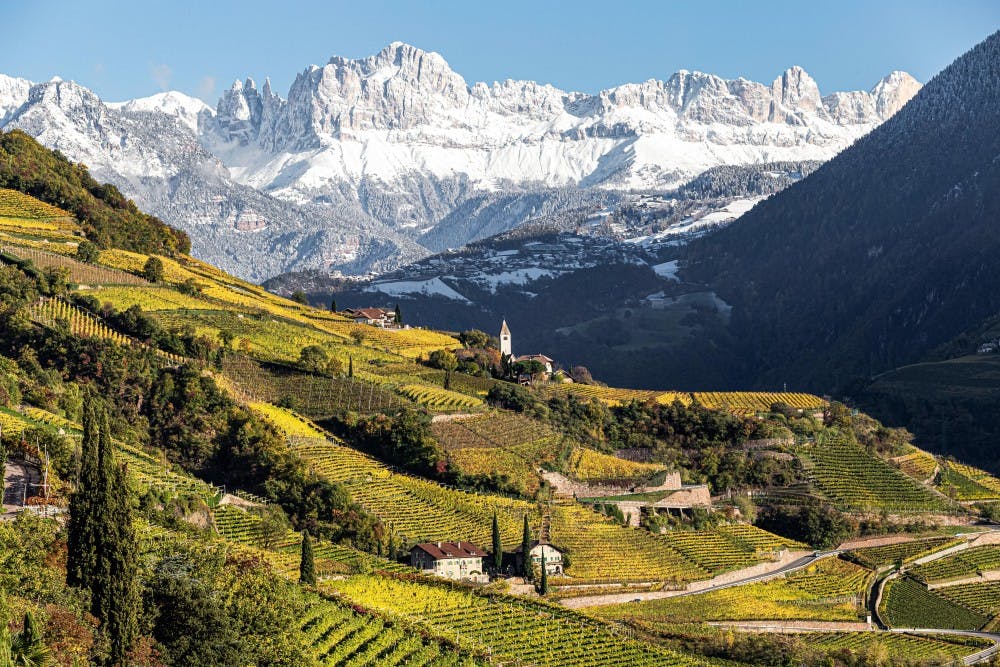 SUSTAINABILITY 
Alto Adige winegrowers live in harmony with nature. Sustainability has always been important: thinking and acting with long-term conservation of the land in mind. The 2030 Alto Adige Wine Agenda is a plan to increase sustainability in the region over the next decade. The plan focuses on five pillars: soil, vines, wine, territory, and people, each with concrete steps to ensure that the land and industry are maintained for future generations.
ALTO ADIGE – SÜDTIROL SMALL SCALE, BIG IMPACT COOPERATIVES 
In Alto Adige, there is a tight-knit community involved in winemaking, including independent winegrowers, cooperatives, and estate wineries, who have been working hand-in-hand in the region for generations. Approximately 5,000 individual operations are engaged in winegrowing in Alto Adige who deliver their grapes to 270 wineries, which produce an enormous variety of white wines, red wines, and sparkling wines.
It is precisely for this reason that they can work to grow the highest quality grape varieties in Northern Italy and thus turn them into quality wines. Around 70% of Alto Adige wine is produced in wineries run by cooperatives. Another 25% of the annual wine production comes from producers belonging to the association "Alto Adige Estate Wineries", with the remaining 5% of Alto Adige wines being a product of the "Alto Adige Independent Winegrowers".