This May, we unveiled a new project to celebrate Italy's most beloved national dish — pasta! Icons of Eataly is a 6-month series featuring an ongoing program of special dishes, classes, and events dedicated to the humble combination of flour and water that has become one of Italy's finest culinary achievements.
The series premiered on May 12 and will run through November 2023. Each month, we're featuring an iconic pasta dish that tells a story about Italy's unique history and distinctive regional traditions. The monthly programming includes hands-on classes focussing on elemental techniques like making fresh pasta as well as recipe-focused labs. Ingredients are available at our marketplace, making it simple to prepare Italy's most famous pasta dishes at home.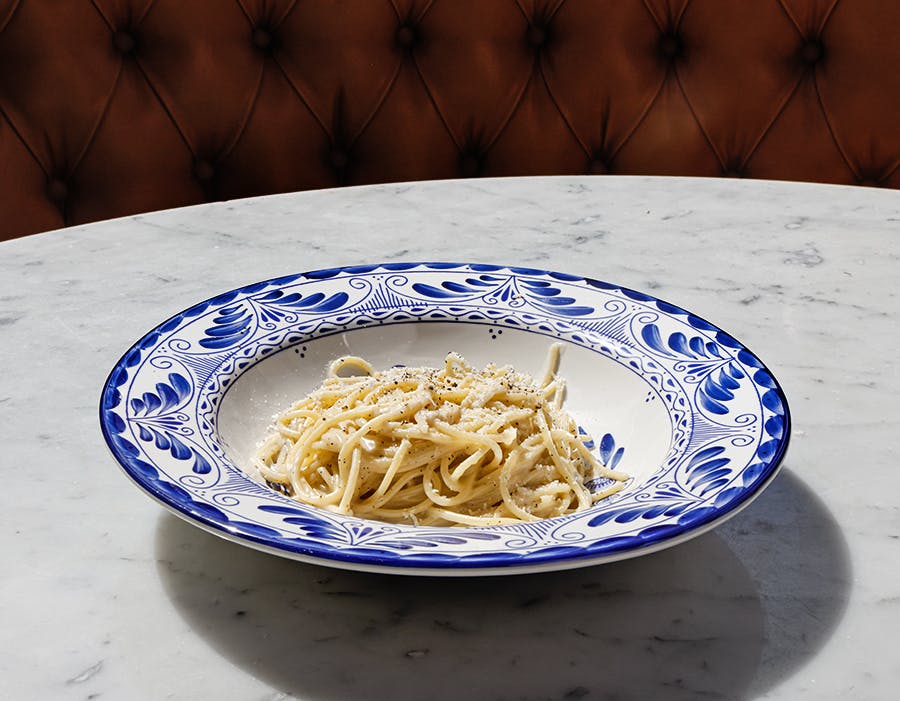 Icons of Eataly launched with twelve days of festivities, when all North American locations became a stage to celebrate pasta. Highlights included pasta-making classes on every element of pasta, including artisanal dry pasta, fresh handmade pasta, how to pair different pasta shapes with sauces, and more; collaborative events featuring top culinary talent, and ticketed tasting events where guests can taste the living history of the Italian pasta, from North to South. Each store also offered a sneak preview of the Icons of Eataly menu, where guests sampled all six dishes before they were officially released to the public on a monthly basis.
SEE WHAT'S HAPPENING AT YOUR LOCAL EATALY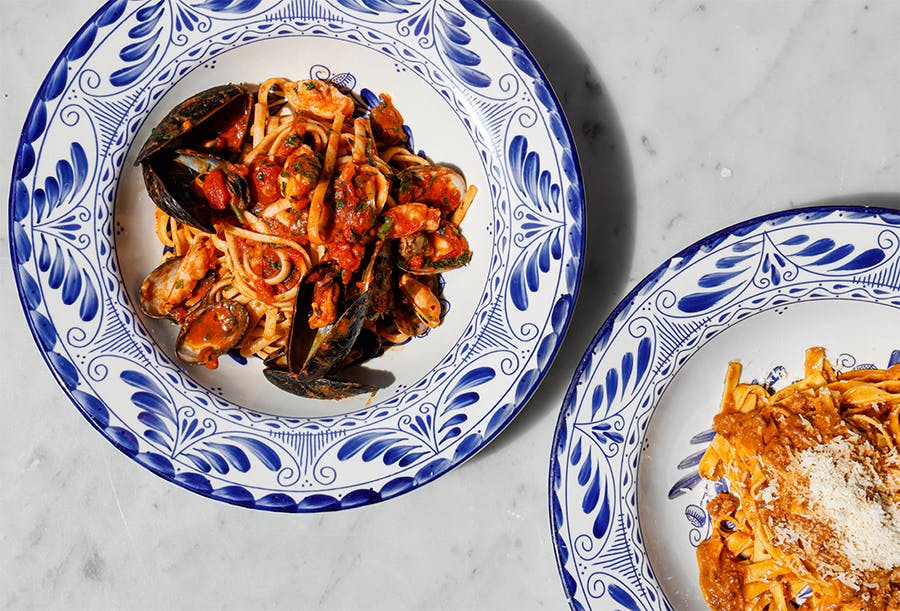 FEATURED DISHES
One iconic pasta dish will launch each month at La Pizza & La Pasta.
JUNE | Spaghetti Cacio e Pepe
JULY | Paccheri ai tre Pomodori
AUGUST | Linguine allo Scoglio
SEPTEMBER | Tagliatelle alla Bolognese
OCTOBER | Lasagna Emiliana
NOVEMBER | Rigatoni alla Carbonara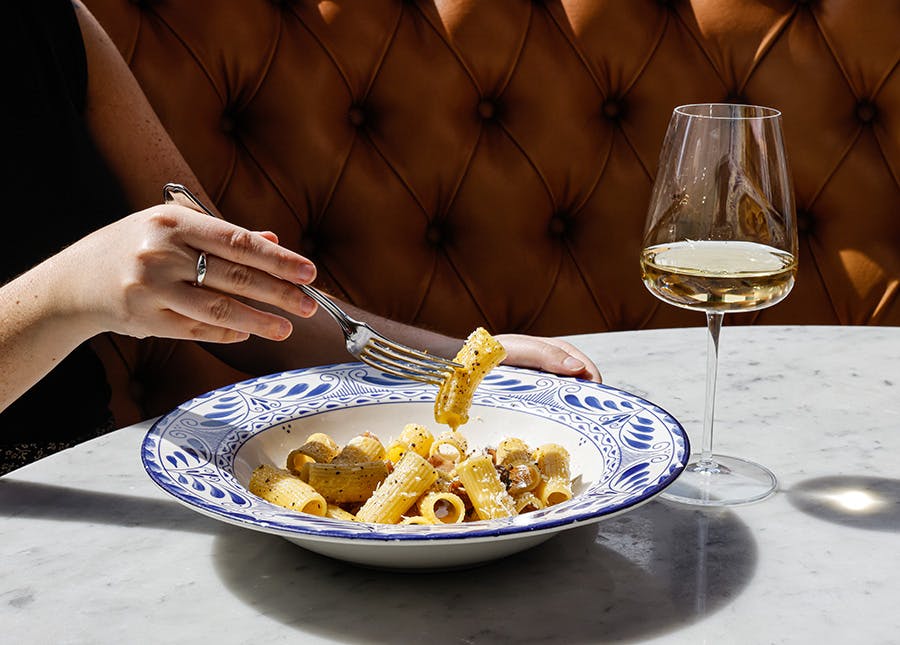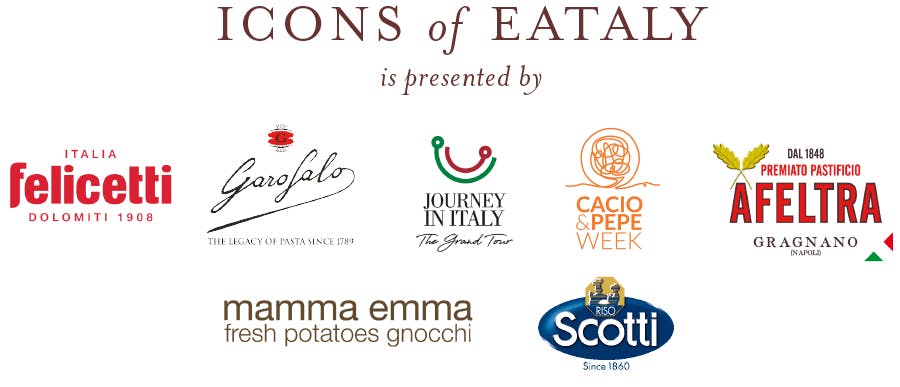 JOURNEY IN ITALY / CACIO & PEPE WEEK
Journey in Italy, The Grand Tour promotes and disseminates the cornerstones of Italian culture and style expressed in traditional and contemporary Italian food and drink through narration and tastings around the world. An integral part of the initiative is Cacio & Pepe Week (May 19 – 26) — a celebration of the Roman dish that perfectly represents the purity of classic Italian cuisine.
FELICETTI
Felicetti produces pasta in the heart of the Dolomites: a challenge begun by Pastificio Felicetti in 1908, thanks to the intuition of grandfather Valentino of using spring water for the dough, and pure mountain air for drying. A meticulous selection of the finest durum wheat, just the right amount of grinding, and bronze drawing give Felicetti pasta its iconic flavor.
MAMMA EMMA
Launched in 2013, Mamma Emma is a symbol of tradition and uniqueness. Mamma Emma's gnocchi are the only "grated" and stuffed gnocchi made with 100% fresh potatoes. Available in a range of flavors — from classic to stuffed — they are also easily distinguishable on the shelf thanks to their kraft paper packaging.
GAROFALO
Garofalo was founded in 1789 in Gragnano, Province of Naples, when — by Royal Decree — Mr. Garofalo obtained the permit for the production and sale of "well-made" Pasta. Since then, Garofalo has been synonymous with excellence. With a taste that satisfies everyone, Garofalo's high-quality gluten-free pasta is GMO free, bronze die-extruded, and made with corn, rice, quinoa and fiber.
RISO SCOTTI
In over a century and a half, Riso Scotti has grown and evolved from an artisan mill into an industrial rice-processing company. Hailing from the Pavia area — wedged between the Po and the Ticino rivers — Riso Scotti has selected and processed only the best rice for six generations, still maintains the same passion for spreading Italian rice culture across the world.
AFELTRA
Since 1848, Afeltra has crafted its celebrated pasta in Gragnano, Campania. Following tradition, the pastificio uses water from Monti Lattari, extrudes the pasta through a bronze dye, and air dries each shape in the Mediterranean breeze.